As I Walked Out One Evening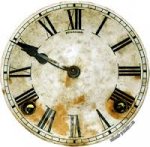 Fri, 13 Feb 2015
At the age of fourteen, Walter Jennings became a disciple of the great god Time. He began a six-year apprenticeship as a watch and clock maker and for the rest of his long working life he gave diligent and faithful service.
Clocks of all types and sizes, those manifestations of Time on this earth, became his life. He caressed them with compassionate hands, examined springs, cogs and escapements with tender concern and made them well again. He bathed them in specialised oils and reassembled them with surgical skills as if they were living entities. For such faithful service, his god rewarded him with three of the greatest gifts possible; contentment from his work and love and companionship from his dear wife Evelyn.
For forty years, Walter and Evelyn ran the best clock and watch makers business in the city. If you needed a timepiece or a repair, Walter and Evelyn were the people to see. They worked diligently and tirelessly, selling, servicing and repairing and their little shop on Bristol Street was soon know by all. What people never forgot was the sign above the counter which read: 'O let not Time deceive you, you cannot conquer Time.'
Through service and devotion to their task, Time carried Walter and Evelyn gently through life. He nudged them into peaceful eddies, well away from the white water of the deep river, allowing them privileged progress downstream. Time rubbed gently against them as he passed by and all the bells in their lives chimed sweetly.
Suddenly one day, Walter heard a different bell, a sombre bell, a bell that turned his dreams into nightmares. Where justice naked is and coughs when you would kiss. It had tolled for Evelyn and in headaches and in worry her life had leaked away. Walter now lived his life with one eye on the clock, in the burrows of the nightmare.
It was six o'clock and time for Walter's evening stroll. In spite of his advancing years, Walter could still get himself down the steps from his first-floor flat and out into the busy city streets with bearable difficulty. Since his wife Evelyn's death three years earlier, Walter had created a daily pattern of fixed routines which had become the framework of his declining years. They were no substitute for the forty-five years he had shared with Evelyn, because together their strong union had allowed them to stroll hand in hand across the years, almost unnoticed by time. Now, however, alone and vulnerable, routine had become his only ally. Walter was increasingly aware that time will have his fancy, tomorrow or today.
He found the hustle and bustle of the busy city reassuring. They were visible manifestations of time and space to him and he took comfort in sheltering amongst them. He wasn't there to shop or gossip and had no contribution to make to the perpetual refueling of relentless city commerce. He simply observed and absorbed and remembered. He watched the pigeons as they dodged amongst the crowds upon the pavement who were like fields of harvest wheat and he marvelled at their resilience as they pecked ravenously at the fallen grain. All too soon, harvest time would chime for them all.
'Hey, Uncle Walter,' shouted a young voice. 'What time is it?' Across the street, his young niece giggled and waved from the warm embrace of her latest love. Walter sent a smile in reply, waved his walking stick in warm salute and continued his journey.
Down by the river, he headed for his usual seat outside the café where he could rest, observe and breath in the heady odours of waterside life. Here the deep river ran on towards the weir under the railway bridge where a large floating barrier protected rowers from possible disaster. Walter ordered his usual lemon tea and then did what he always did here; allowed his thoughts to drift.
A clock bell called to him in the distance and he could hear the gentle strains of music drifting out from inside the café. It was music that he recognised...Dido's Lament from Orpheus and Eurydice. 'Remember me, remember me'. Down by the brimming river, he heard a lover sing....'remember me'. How could he not? He had loved Evelyn ever since they were childhood sweethearts. They had tackled life together head on and won every battle with consummate ease. Together they were invincible, they had accepted Time as a friend, even when all the clocks in the city began to whirr and chime. They transcended time and banished it from the shadows of their union. Evelyn was no longer with him, but his memories and his love for her would never be erased.
The clock bell called him from his reverie, a familiar friend with a compassionate tone and Walter looked down at his teacup. He couldn't remember drinking the tea and he certainly hadn't noticed the crack in the cup when it was served to him. As he left the café and began his slow progress towards the crowds on the pavements, the bell ceased its chime and the deep river ran on towards the weir under the Railway Bridge.