todos dormimos bajo la misma luna (or we all sleep under the same moon)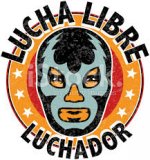 Wed, 04 May 2016
El luchador (or the wrestler)
In the mountains
When Vincent looked up at the sky, he didn't see its blueness or its vastness.  It was the same with the crooked mountains he lived amongst.  Vincent wasn't impressed by their doomy, ancient range.  What Vincent saw when he looked was himself on the ridge of the mountains, or flying in the sky.  Vincent, the luchador, the wrestler.  Solid, built, but with light as air moves. All aerial skill and vitality.
In this version of himself, he wasn't the seventeen year old half-grown he saw in the mirror in his sister's trailer every morning – full of semen and swagger.  He was Vincent the Glorious.  Or El Demonio Rojo, to know him by the luchador name he'd given himself.
El Demonio Rojo's muscles rippled and glistened. His bare chest was an inverse triangle, tapering downwards to the red of his tights and his boots.  But for the luchador, everything was about the mask. Hiding all, whilst creating the potential for every possibility behind it.
Vincent had spent any number of evenings in his bedroom designing his mask.  He'd sketched it on the pad his sister had brought him back from Coop's Convenience in town.  Page after page of masks - landscape on the page.  He'd experimented with complexity, he'd tried retro.  But in the end, he'd settled on a simple red design, broken by a silver zigzag diagonal across the eyes. A demon mask for the Red Demon.
No-one in what Vincent could legitimately call his family (his sister, Marcie, and her bum of a boyfriend) knew he loved wrestling.  Hell, they didn't even know he could draw.  Marcie's only reason for buying him the sketch book was she thought all the kids in college these days carried one.  Pretty much in the same way they carried a gun or a venereal disease. 
For Vincent, this only proved to him that although he loved her, Marcie knew jack about jack – and revealing anything at all about himself wouldn't make a difference to that.  So he stayed where he was; safe behind his mask.
Besides, he wouldn't even know what he'd tell her about the wrestling.  He'd not even tried it in reality.  Sure, he'd train on the kids' monkey bars behind the trailer park and he could run for days.  But as for actually busting out a lucha libre move?  That hadn't happened yet.
But not trying didn't mean not loving and Vincent's best moves were dream moves.  Moves from the 'fifties.  Mexican moves.  And in his dream, his opponent was always his hero. The best luchador to come out of Mexico City. El Gato Verde, the Green Cat. 
Vincent had a poster of him years ago in his heyday, stuck wonkily on the wall of his bedroom, resplendent in the ring in his emerald costume.  Despite the mask covering most of his face, Vincent was always convinced he could see how handsome El Gato had been in the determined, slightly cruel set of his mouth, and no matter how old The Cat was now, Vincent would give anything to meet him.
*
On the border
The sun made El Gato tired these days.  He'd known it all his life of course, but in this shit-kicking town he'd lived in for the last thirty years, there sometimes seemed nothing but the sun.  No diversion from its relentless heat, its glare.  Its… well Gato supposed… sunniness.
If he thought about it (and El Gato had lots of time to think), he probably would decide men of his age shouldn't be out in the sun at eleven o'clock in the morning.  Maybe now was the age for late afternoon, or early evening.  Before he gave into the vampire of old age all together and only came out at night.
But the pull of the square with its white tables and chairs and the coffee and the other old guys shooting the shit was still strong. So here he was, at his usual table; tiny coffee cup in hand, evil Chihuahua at foot.
Here, no one knew him as El Gato. To the old guys in the square and the docs at the hospital who saw him for his monthly heart checks, he was Eduardo.  A sweet, old guy. Pushing eighty, still hale, but with nothing they could see would make him have rocked up here.  No family, no ties to the place.  Yet, here he was – part of the group of old guys who drank coffee and watched the world go by,
El Gato loved the anonymity of the town.  He'd been there long enough for everyone to know him, yet he was sure that not one other soul knew he'd been El Gato Verde, one of the best luchadores ever to take to the ring. The green mask he'd worn constantly throughout his career protected him now maybe more than during his fighting days.  Without it, no one had any idea at all who he'd been.
And it was this more than anything else that made the letter he'd received in the mail that morning the more strange.  He'd picked it out of his mail box on the way to the square and kind of shivered when he saw it was addressed to El Gato Verde. It was a white envelope with round, childish writing on the front. He'd read it as he stood by his mail box and he took it out to read again at his table.
The sun burned down and he shielded the words with the cup of his hands.
"Hey El Gato.  You don't know me and I know I don't really know you, but I feel I do. I've followed you for what seems like forever and you know what?  I just want to meet you, you know, to talk about what you did.  What you experienced.  I could come to your town. We could meet.  Hell, maybe we could even fight.  Just kidding!  But seriously, I would love to come and just talk to you.  I've been a fan for so long.  Yours in admiration always, Vincent Riocha."
The youth and certainty in the letter leapt out at El Gato, but so did the sense he was being pinned down. And this town for him had been the chance to avoid that pinning. He smiled as he screwed up the letter and envelope and put it in his empty coffee cup.  He bid Ciao to the guys, yanking the damned Chihuahua as he stood up.
Walking back to his house, sticking close to walls of buildings for a scrape of shade, an old saying of his grandpa's came back to him. He may be a big cat, but he still ain't tall enough to see over the wall.
*
Technicos y rudos (or the good guys and the bad guys)
Where the mountains meet the border
Looking back on it several weeks later, El Gato supposed there was a certain inevitability to what happened.  He'd never truly believed in any higher being, but he'd seen enough of life (and been on the hurting end of it plenty over the years) to know some things just had a way of connecting together.  Not in terms of any kind of fate thing – more a kind of shit storm thing.  And in any case, wherever there was a luchador, there was a fan.
The kid had turned up in the square one morning about four weeks after El Gato received the letter.  The actual shock of the letter had faded by then and when he heard the young guy hollering in the early heat, it took him a while to realise this had anything at all to do with him.
El Gato looked up from his coffee at the kid.  He was quite small, but squat – a potentially great build for a luchador.  He was dressed in a black tee and pants, which told El Gato he wasn't from his town. Black clothes and the sun weren't the best of friends.
He knew the kid was looking for him when he heard his dumbass questions, echoing round the old men of the square. "Hey sir.  Do you know El Gato Verde?  Have you seen the Green Cat?"  The guys, for their part, answered him with a mixture of disdain and bemusement.  Sure, they'd heard of El Gato Verde – everyone had – but why this kid was looking for him in their town, they had no idea.  The truth was he'd probably been dead for years.
El Gato sat composed and still at his table, his muscles taut in his old fighting stance.  Prepared for whatever was coming.  Yes, he felt fear, but he rationalised things too.  He would never be recognised without his mask.  His real face hid his mask and the weirdness of this made him kind of grin.
The next morning, the kid was back again, asking his questions.  And for El Gato, fear turned to something like anger. The brawler's toughness will always out. Who did this kid think he was?  King fuck of shit city?
He could hear him talking to Lucas, and Jeez, what a garrulous old bastard he was.  El Gato had not had cause to speak to the kid himself yet, but he had a sense of him circling in on him.  Maybe to eventually perform a piledriver, flipping him upside down and on to his butt.
El Gato had got up and started walking away, the damned dog dragging its ass behind him, when he heard the kid say "Excuse me. Excuse me, sir.  We've not had chance to talk yet."  He hurried on and lost him in a side street, but like all good luchadores, he knew when to make his move and when to quit.  And this was quitting time.
So he went home to the small, back room in his house and did what he thought he'd never do again.  Out of the battered valise that filled the top of a closet, he took his luchador tights, his boots and his belt. He put them neatly in a pile on the chair by the closet because they were peripheral and not needed right now.  Now, it was all about the mask and El Gato put it on.
The kid was waiting for him in the square early next morning, as El Gato knew he would be.  He'd left the Chihuahua in the yard, dozing under the oleander tree and he'd sat down at his usual table as the kid moved over to join him.  Through the eye holes in his mask, El Gato looked at the kid steadily.  One thing every luchador knew was you never walk away from a challenger.
The kid spoke and his voice was higher pitched than El Gato had imagined would come out of his frame.  "I knew you'd come. Man I can't tell you how stoked I am to see you. It's an honour. I mean, where can we begin?  I just I just…"
El Gato cut him short.  "We can't talk. I have nothing to say. Let's talk as only luchadores can.  In the ring."
Walking back to feed the dog a few minutes later, El Gato couldn't believe how silly he'd sounded. How damn pompous. Besides, what the hell was he thinking? How would he be able to fight this kid? But the thing that carried him through had been the kid's response of "oh wow oh wow oh wow".  Damn, he thought, how the young can flatter us.
It seemed appropriate that they'd fight with no one else around.  In fact who would even want to watch an old guy in a mask wrestling a young guy in a mask?  At best, they'd be the subject of a bet, or laughing stocks on someone's fricking camera.  No better than bums fighting in the street while people threw coins at their feet.
They arranged to meet that evening, when the air was cooler, at the car park behind the mall.  Earlier, El Gato had put the rest of his luchador costume on and to his sad delight, everything still fitted.  Snugly yes, but actually better than his own loose skin fitted his body these days.  He felt momentarily worried about possible piss stains on the front of his tights, caused by his worn, old bladder; but like his other fears this one dissipated when he breathed in the smell of sweat and victory the inside of the mask still held.
As in that morning at the square, the kid was already waiting for him and he too was wearing a mask - red with a sliver flash.  And in the lilac of the evening, they marked out what was to be the ring with their sweat pants and tops. There was no bell, but still the wrestling began and for El Gato the rules and protocol of ages came flooding back.  Never use the ropes for leverage. Never hit your opponent in the groin. And never ever unmask your opponent.
As they wrestled, El Gato's heart was pounding.  His head knew the moves by rote, but he wasn't so certain his body could pull off what his head could remember.  But the kid was no wrestler either.  Sure, he was quick, but he was clumsy.  There was no lightness about him.  No pizzazz.
The kid just kept dancing round him with a leaden rhythm.  Kind of in the style of a worn out hornet.  But then, what should never have happened did.  El Gato had ducked so he could get his arms round the kid's head to throw him over, when the kid's hands got too close and caught on El Gato's mask.  Before he could do anything to prevent him, the kid had taken the mask off his head and was holding it. 
It was limp and floppy, like a scalp, and El Gato had never felt so naked in his life.  The weather that evening had changed, but still quite unexpectedly, it began to rain.  Hot, angry rain.
*
La mascara (or the mask)
At the border
Later that evening and over the coming days, it was the names of wrestling terms that comforted El Gato.  He'd sit in his house, or at his table in the square, letting the words run through his head. Guillotina, tope, rana.  Centon, espanos, tornillo.  It kept crossing his mind that what really stayed with him about the fight was the softness of the kid's fingers on his forehead, the smell of his skin. 
And at least now, he was sincere – without mask.  The other guys didn't even know about it and nothing had got seriously broken or hurt.  The damned Chihuahua looked like it knew, but that was the thing about Chihuahuas.  They always knew.
The other thing El Gato kept going back to was the look on the kid's face when he'd unmasked him.  Was it shock?  Pity?  Or something more complex than either?  El Gato wasn't sure, but he was still left with the feeling that somehow he'd lost something important.
 In the mountains
On his long journey home, bumming a lift from this trucker or that, Vincent kept replaying the taking off of the mask. He hadn't even meant to do it and he certainly would never dream of insulting El Gato, or dishonouring him. He'd just got caught in the moment.  The damn, silly thrill of the moment.
From the truck's cab, the moon was fat and mellow in the sky, but for Vincent it couldn't replace El Gato's face when his mask was pulled off. His flabby, old face with its milky eyes and deep wrinkles. What Vincent had seen too was that it wasn't cruelty that gave his mouth that particular set, but sadness.
You know what?  Vincent didn't want to think about El Gato at all.  He wanted the shit safety of his sister's trailer, the relentless boredom of college. But the wrestling terms kept grappling his brain. Los technicos, the good guys. Los rudos, the bad. And as the road's hum and sway finally got his eyes to close, Vincent decided he knew what he was. A goddamned bad guy. A true heel.
*