Darkness settles - Moses, 18th November, 1978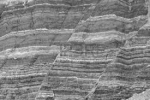 Fri, 02 Dec 2016
Darkness settles
Moses – 18th November, 1978
Delarosa is here, standing slightly to the left of him. Or rather, Moses is here where Delarosa is.  In this clearing in the jungle, outside the building he knows is called the Pavilion. From where he's hiding, when he looks down and sees her shoes for the first time, they're not what he expects.  In his mind's eye, they were colourful.  Maybe red, maybe even yellow.  But they're not.  They're sneakers, white and scuffed.  Rather sensible.  These are not the shoes of the Delarosa he thought he knew. The Delarosa he doesn't know at all.
All around him are people. Children, old people, every age in between, and for a minute he loses sight of Delarosa.  In the loss of her, before he sees her again, the feeling of heat and oppression grows.
He breathes deeply and a memory from when he was a child grips him.  A memory of being on a hill on a deep blue day, the sky and hill becoming one. Blue, empty.  Is this what childhood was?  In photos of him as a child, he was always smiling. Despite, despite…
The heat here is cloying green and the people are waiting for something.  They're building to something. A man is walking around who looks at you from behind dark lenses and you can't see who he really is because you can't see his eyes.  Not that Moses has ever found it easy to meet anyone's eye, so he understands the man's distance; his remove.
And the weird thing is, Delarosa doesn't see Moses.  Not at all. He's an irrelevance to her, a shade only. Maybe who he becomes is there in the potential of the baby she's cradling in the tie-dyed scarf.  The baby is holding her hand - trust in his grip, his heart and hers beating next to each other.  His heart grown in the red confines of her insides.
Moses wonders what she was like as a little girl.  He imagines her - red haired, messy - her ghost sister walking by her. Her sister that only Delarosa and he can see. Their secret image, their secret ghost.  He projects this little girl version of Delarosa into the scene he's in now.  A double negative, an imaginary image superimposed on an imaginary image.  The little girl walks through the people, clambering to get into the pavilion, but she doesn't note the man in the black sunglasses or his words. "Hurry, my children, hurry."  She doesn't note Moses either.  How could she?  She's not there and neither is he. 
He wants to hold her hand, to kiss her as she disappears into the crowd.  But when she's gone, he still observes as Delarosa – the woman the little girl became – walks towards the Pavilion.  Her steps are certain and dreamy at the same time.  She's getting there, but she's clearly thinking about something else too.
He focuses again on the baby she's holding and he's seen too many sci-fi films, read too many time-travel books to know to interfere.  He can't, he mustn't.  To step out from his hiding place would be too brutal – a violent, indulgent act - and anyway, he's safe.  He knows this because he exists to be able to observe.  For that very reason, he also knows everything is going to be ok. She saved him, she had a choice and she saved him and this certainty carries him through.
The crowd is surging forward and there's anticipation and also fear.  Some people are wildly talking, shrieking, some are dancing and crying.  They can't all get through the door into the Pavilion.  It's too small and not fit for purpose.  But Delarosa and Baby Moses are calm and quiet. For them, there's not fear, only certain, forward momentum. 
It begins to rain softly and he moves out from his position of observation.  For a second, he thinks Delarosa looks at him, but then he's sure she hasn't.  He's done the research now, read the newspapers and watched the TV reports and he knows what's waiting behind the door of the Pavilion.  Fucking, crazy Jim and his soft drink poison. The Reverend and his promises and lies.  But none of that matters because whatever decision Delarosa made for herself, she loved him and she saved him. For no-one but himself.
The rain starts coming down in earnest now and is the rain real or phantom rain; the ghosts of raindrops?  But that doesn't matter either – the rain's reality or not - because Delarosa loved him and she saved him. As he sees Delarosa and Baby Moses finally walk into the Pavilion, darkness settles.
*