False Announcements!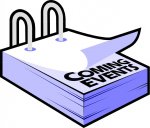 Fri, 06 Oct 2017
They asked him when he'd come again;
he said you cannot know just when –
only the Father knows the day.
So don't be duped when people say
their own ideas, scripture twisting,
some special knowledge new insisting,
to give a date, absurd invention,
bizarre, unfounded speculation –
which just makes others sceptical,
that such an awesome spectacle
we'll see one day – the King descending,
not as a Babe, but praise resounding.
So wait in expectation, ready,
with fixed anticipation steady,
and not (because of wrong predictions),
neglecting proper preparations.
"No-one knows about that day or hour, not even the angels in heaven, nor the Son, but only the Father.  … So you also must be ready, because the Son of Man will come at an hour when you do not expect him." Matthew 24:36, 44
[This week IP: The Wrong Time]