I'm Not Disappointed, I'm Just Angry Chapter 1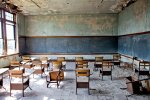 Mon, 16 Jul 2018
1 likes
PGCE[1]
July 2004[2]
Like a lot of people, I enjoyed school. Grammar schools were still in operation in Northern Ireland when I grew up and I attended a good, Catholic one (note the comma). We were decent. We listened. Our parents supported us and bollocked us as much as the teachers did. We were so full of support and blood and thunder from the Bible that we (mostly) behaved. We were good kids. Weren't we? Funny how many people have a blind spot right where their shitty past lies. Only now am I having hazy flashbacks of helping a friend bury Lucozade bottles full of unleaded petrol (gotta look out for that environment) to throw at the highly-flammable 'temporary' mobiles at the back of our playground. Or of a friend cutting ragged holes in a shoe box, taping some wires into it and writing 'bomm' on it before placing it outside the Headmaster's office at the height of the troubles. Or of another friend who would casually massage himself to full mast in a lesson and make his appendage twitch in front of one of our teachers who happened to be one of the Catholic brotherhood. He then enquired, 'Brother, are you a virgin?' coquettishly. I had a lot of friends like this. Or some of them may have been me. Depends on who's reading this.
But anyway, having achieved gainful employment after University in the Plant Testing Station working for the Northern Ireland Civil Service's Department of Agriculture (no joke – I wrote about potatoes) I felt somehow unfulfilled. I had completed an awful lot of crosswords. I had perfected the art of balancing 'Judge Dredd Megazine' on my knees at an angle that nobody from the front or side could see me read it and instead I looked like I was concentrating hard on how many tubers there should be on a Jersey Royal. I'd taken Liverpool to the FA Cup and Champions League final in one season on Championship Manager so I felt it was time for a change. Something challenging. Something well-paid. Something where people would admire me for the fucking genius I am and would listen attentively and patiently at my knee to every golden ounce of wisdom that dripped from my chiselled, hirsute chin. I'll be a teacher I thought. Piece of piss.
Actually it was. To begin with. I applied. I took three online tests, one in English (luckily what I wanted to teach and half of my degree) one in computer stuff (again, FA Cup final and Champions league in one season? Easy) and Maths which I promptly failed. I thought that's it – I can't do it. I thought of all those legions of children who would go un-nourished by my wisdom. Those poor, fragile minds who wouldn't be shaped by my 21 years of experience in the bad lands of south Down and the mad, bad lands of the Holy-Lands in Belfast. I thought of them right up until the moment I saw the 're-take' button and sailed through with some lucky multiple-choice wizardry and memory skills.
After passing this first trial, much like Indy's dad (Indiana was the dog's name!) on his way to finding the Holy Grail, it was on a plane to England and an interview next. I sat in the waiting room of a small University College campus and made smaller talk with the dad of one of the other candidates. 'How was the drive?' he asked. 'Not bad.' I said. 'Have you come far?' I asked. 'About half an hour – you?' 'From Belfast' I bit back. Haha! No prisoners here. I would later befriend the daughter of this man who I had single-handedly trounced with my ballet of words and she would frustratingly, double-handedly trounce me at pool regularly. I blame racism.
When my time came I was ushered into a small room where three rather grey people were plonked behind a long wooden desk. They gave some long winded introduction and asked some generic questions which I had been given before the interview so was well prepared to knock their matching socks off. 'Why do you want to become a teacher?' 'For the cheap cocaine and loose girls.' 'What are you like under pressure?' 'Fucking awful – run around and scream like a Chihuahua lit with diesel.' 'Are you a hard worker?' 'What time's this finished at?' Standard fare and I wowed them with each carefully crafted response.  Then came my moment to shine. They asked me to read them a passage from one of my favourite novels. I stood for effect. I coughed for effect. I paused for effect. I read (nay immortalised) the words of James Joyce's 'The Dead' in as clear and thunderous a voice only the magnificent love-child of Brian Blessed and that toothless one from The Pogues would be capable of. They were stunned into silence. All of their Joyceian preconceptions were blown out of the window like so much snow on the grave of Michael Furey. I awaited the rapturous applause and confirmation of my place amongst Gandhi, Jesus and Southern Electric as those blessed with the gift of bringing enlightenment to the masses. 'Yes you could do a lot with that. We'll be in touch'.
---
[1] Post-Graduate Certificate in Education. You need one of these to become a teacher and can access one if you've got a degree. There are a million other ways to get into teaching now – be a failed banker or perhaps get dishonourably discharged from the military, but this was my one.
[2] Dates (probably)
I'm going to take the same approach to dates as I took to preparing my portfolio of observation evaluations - they're not accurate. They don't matter. Who spends time reading them anyway? All dates are approximate/made up.