Time Was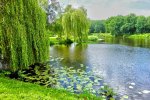 Sat, 01 Aug 2020
I plucked a moment from younger days,
pleasures twirling in an unseen eddy;
arms outstretched before sloping
to earth, laughing among blades
of vivid green,
gazing up at spinning sky, drowsily
breathing in ambient golden sun,
like pleasure of marmalade
on hot buttered toast.
Once time assured promised delight,
perceived now only in stupor of thought;
fragments feeding whispers on fringes
of remembered willows that draped
constant pond; not quite touching surface,
does weeping tree speak in codes?
Messages shimmering across water,
grieving veiled shadows past?
Or do leaves tremble surrendering to peace,
blowing away such wounds? Instead chasing
sunny days when tiny wings fluttered near by,
like we young would play out our dreams
each summer's day.
Pixabay free image.