Holly Tree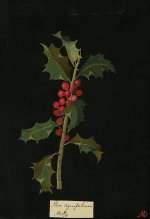 Thu, 10 Dec 2020
1 likes
Broodmares no longer,
women should reclaim
the holly tree, the bleed 
of berries that feed
a mistle thrush, and
in a hedgerow, a harbour
for the toad and slow worm
beneath its umbrella
of thorns. In the understory 
of an evergreen, dark months
wheel the wane, and above,
spines bear lightning and pain
the feet of a passage 
of witches. Kingless, midwinter
returns to solstice, a parabole
to bloom and bounty: prickled,
unflowered. Do not tell me
some morality tale or any male
appropriation of a history - 
all tongues are ploughs 
to the earth
of a story retold.
Image is from here: https://commons.m.wikimedia.org/wiki/File:Holly_-_Mary_Delany.jpg
Also on Twitter: https://commons.m.wikimedia.org/wiki/File:Mistle_thrush.jpg
https://commons.m.wikimedia.org/wiki/File:Léon_Bonvin_-_Vase_of_Holly_-_Walters_371662.jpg