The Green Church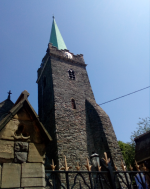 Sun, 21 Feb 2021
I am the God of this town you could say and you should and it only cost me three hundred euros to be so. 
Look at him there, swooping over those peppery rooftops, my great mechanical raptor, stealing through the clouds, breaking all-known sky laws, privacy laws, oh never has a creature of such grace been witnessed in this town, not before, not ever, like something in the old stories, a legend for forever. 
And you can tell they're impressed, for they're all looking up and pointing, and wondering, but he knows only me, tells only me the secrets he collects from those heights, and wouldn't you like to know what I know now through my eye in the sky, of the messages he sends me. 
Look!  We're flying over the old school, and the old library, and the old windmill, and the whole town.
Yes, I am the God of this town.
Just three hundred euros.
In Argos.
Look!  The Green Church....wait!
No!  Get out of there!  What are you doing?
He's stuck, he is...and am I.
Poor birdie pinned to the wall of the steeple tower, way up there, winged. 
A prayer I say.  To the machine God, the One we all answer to, even me, the once-ultimate God of this town.  Yes, I am fallible now.  For I am grounded.  I must up.  I must rise.  I must conquer those sacred walls to retrieve my treasure, my star.
Look around!  Any priests?  No.  So start climbing, yes.  They're watching from below.  They can't get enough of it.  But I hope no-one calls the cops.  I am the God of this town.
I can hear him above me diminishing on the spire, his droning, his sobbing, my crippled angel.  Electric tears today.
Ah, my foot's stuck.  Shit.
They're still watching down there.
Reach out.  I'm here. 
Oh the fallen, the broken.  I cannot reach.  Dangling are we both now in the heavens.  The other Gods have left.
The droid is failing, wheezing, my seraphim, my Gabriel, my divine motor device.
It comes.  Slow death on the holy summit.
Three hundred euros.
Are they laughing down there?
..................
'Call someone, hey.  Call the firemen, I'm stuck.'
Photo by the author