Secrets Of Wistman Woods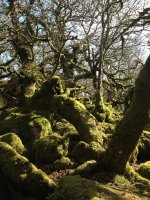 Mon, 11 Oct 2021
This is a poem about a small wooded area on
Dartmoor, that is both ancient and otherworldly,
like a secret to be told.
Troubled cobwebs blown away in pensive solitude,
through Wistman's wood trailing plants weave;
branches intertwine a marriage of bliss, they cozy up
to face another uncompromising winter's grip,
limbs bowing to moss swathed boulders where
serpents slither – waiting in dark yawning hollows.
Traverse at leisure if you will, but be weary
lingering after sundown; there's endless tales in
every nook and cranny; while thicker drifts on edge
of moor send mists of warning...mumbled stories to explore,
of bounding howling dogs presenting fear, chasing those
who loiter too long here; yet little wren has no qualms,
busily adept arranging nest in gnarly boughs;
resembling bony twisted finger nails.
Reality and fantasy side by side in this formidable
land survive, where willing oaks together withered
stand, but don't let appearance fool you, they who
seem defeated; command resilience – face combat
in this impending weather, wearing green layer of
nature's mossy canopy unrelenting,
Blending both enchanting and imposing,
revealing echoed murmurs of wood's soul filled
with daylight sunshine; breaking gloomy spell in
awakening of dawn's rays stretching moor's sweet
repose, hearing distant burbling across barren rapture.
Moments / Wistman's Wood - YouTube
Pixabay free image.