Stirring Of The Senses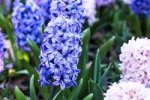 Sat, 05 Feb 2022
2 likes
When recalling Apollo's love, lyre shall
play such sweet tunes; his weeping tears
will fall softly watering corollas of
Hyacinths, radiating energy...a flower
to bloom like no other.
Florets stand tightly; though delicate
to the touch, magnetic beauty shrouded
with intense fragrance, air pockets catching
senses; blending pure glossy petals curled,
drenched in early morning spring dew
rising with the sun – vibrant pleasures
feel warmth surrounded by serenity,
my curiosity stirring as earth silently
voices expression of summer to come;
eager roots creep where creativity wakes,
and my thoughts turn...attuning with nature,
its drawing power a captivating study; eager
of knowledge, helping me understand more.
Pixabay free image.