Miracle Baby???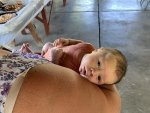 Sun, 04 Sep 2022
Michelle wasn't a very superstitious woman. She did however always knock-on wood for good luck, didn't walk under ladders, believed that breaking a mirror would bring seven years bad luck, picked a penny up if she came across one, believed a groom should never see his brides dress before a wedding or never opened an umbrella in the house, but she wasn't a very superstitious woman at all.
When she underwent IVF and was due to meet with the gynaecologist on the thirteenth floor of the hospital, in room thirteen on Friday the thirteenth to see if it took. She was sure that them putting all their eggs literally in one basket was a mistake and was certain she wasn't pregnant. The gynaecologist spoke softly as he confirmed she was pregnant and was about to have a miracle baby. They were sure there was no way that a few silly superstitions were going to damage the baby, the living being that she was now carrying.
Michelle got the feeling that there was going to be something wrong with the baby from day one. The fear consumed her and she pulled poor Mike out of so many meetings, panicking. He told it to her straight that if she didn't relax then she would miscarry.
When she started spotting on week thirteen, she was resigned to the idea that she had lost the baby. She rang Mike who was away on business for the next two days. He told her to ring his sister Linda. Linda was a nurse and even though she had four kids, she had dealt with her fair share of miscarriages to get them.
As Michelle waited for Linda to first find childcare and then drive the forty minutes to her house, she was at a loss. She sat there on the cold grey tiles of the kitchen floor crying, her phone in her hand. They had been trying for a baby since the night of their wedding thirteen years ago. She had miscarried three times already and even though it was only their first round of IVF, they knew that they were never going to get that chance again. They had to borrow against the house just to pay for it.
Thank God Linda knew where the spare key was because Michelle was unable and unwilling to get up from the kitchen floor. She was grieving for a baby which she still had. Linda reassured her that plenty of women have a bit of spotting but brought her to the nearest A&E regardless. She though had Michelle heard the heartbeat that she would relax which in turn would let the baby relax. Michelle knew Linda was the right person to come and help her as she knew she felt her pain as it was week thirteen that she had her first miscarriage.
They rolled up to the A&E, Michelle hysterical. As soon as she heard her baby's heartbeat, she began to relax and the tears began to dissipate. After all day in a busy A&E, Linda got some food from the local chipper on their way home and instructed Michelle to eat, that the baby needed comfort food. Doing as instructed, the smell of vinegar enveloping the car, she finished the last chip from the bag as they pulled up to her house. Linda opened the door for her sister-in-law and Michelle grabbed her arm and asked her to stay with her. As it was Friday, she knew her husband didn't have work the next day so Linda hopped into bed beside Michelle after reading the book goodnight moon which she knew off by heart to her brood.
The day Michelle hit sixteen weeks she felt something. For the first time in the pregnancy she felt life and was finally able to relax. Mike was home that day and even though he couldn't feel anything, Michelle could and it brought her to tears. That was the first day she felt hope that she was actually having a baby.
As the weeks progressed and the baby got bigger, Michelle was finally enjoying her pregnancy. She was due in July and was feeling excited to see her little miracle in person. However, the baby had other ideas.
On the sixth day of the sixth month in 2006, Michelle went into labour. Mike rushed her into the hospital where she was told she was going to have the baby that day. Michelle, still not at all superstitious, found it hard to accept that her child's birthday was going to be 6-6-06, the mark of the devil. They already knew that it was going to be a boy and they had already picked out the name Christopher. Michelle refused to acknowledge that this was happening. She was going to hold this baby in until the seventh come hell or high water.
The baby came out regardless. She saw him for the first time and wept, but they weren't happy tears as Mike was presuming, they were tears of fear. This 'miracle' baby has had significant omens brought upon him. She was happy to be a mother, yes, but she wanted a different baby, one which didn't frighten her.
'I don't want to call him Christopher!' she began to explain to her husband even though it was the name of his father who had died mere weeks beforehand. Mike put it down to hormones and welcomed baby Christopher into the world through his incubator.
Although he was six weeks premature, they were lucky he was a relatively healthy little boy. He spent five weeks in hospital before being unleashed upon the world. They were ecstatic to bring their son home from the hospital. Michelle however wasn't feeling in anyway maternal towards the little tyke. He would just be changed when a code brown would occur and he would need a bath after it. He literally cried for two years solid.
Mike could see that Michelle was struggling and although she never mistreated little Christopher, he noticed she didn't have the bond she initially craved when they tried IVF. When he was three a miracle happened and Michelle fell pregnant again, this time naturally. She gave birth to little maria nine months later and Mike noticed that their bond was instantaneous.
Christopher constantly mistreated his little sister. When she was in her carry tot getting ready for the park, he gave her a black eye. Michelle couldn't leave the two of them alone as Christopher played so roughly.
When he was eight and the school year finished, the principal called Michelle and Mike into her office and basically told them that Christopher wasn't welcome back the following year and that they were going to have to make other arrangements for September. Michelle wasn't surprised as he would come home on a regular basis with a note from his teacher stuffed in his bag. She had shown them to Mike but he brushed it off as boys being boys.
As secondary school loomed and Christopher was going through puberty, he bit a piece of flesh from his sisters leg. When confronted he simply answered, 'I wanted to see if she would bleed!' That was the day Mike finally realised that his son was mentally ill. He was expelled from three schools in two years before they brought him to a child psychiatrist. Michelle kept a diary of what was done by her son when, a diary Mike was shocked by. The doctor who they talked to wanted to know why they hadn't brought him in sooner and that he needed inpatient care.
'He's just a boy being a boy doctor! He doesn't need admitting!' Mike piped up.
'I'm after doing all the tests and I'm sorry to say that your son is a sociopath and needs help!' the doctor answered.
Mike was speechless. Michelle who still wasn't superstitious in the slight asked if because he the gynaecologist saw them on Friday the thirteenth on the thirteenth floor in room thirteen room to tell them they were pregnant had anything to do with it. When the doctor shook his head no, she proceeded to ask if because his birthday was 6-6-06 and his name was Christopher if he was the devil. The doctor also shook his head no.
'Are you superstitious Mrs Brady?' the doctor asked.
'Absolutely not!' she replied, 'but I am afraid of my own son,' she admitted and began to sob. This child, this miracle baby who she wanted more than anything frightened her. She asked the doctor if killing a cat would be because of his condition. Mike looked at her alarmed.
'You said the neighbour hit the cat with his car!'
'I was trying to protect you! Tried not to spook you! I didn't think much of it before but now it makes sense as to why only the neck in the cat was broken.'
Mike stood up and walked around the room, his hands grabbing tufts of his hair. 'Is there a cure?' he asked the doctor as he paced the room, Michelle beginning to cry.
'I'm afraid not!' the doctor answered, 'we do need to admit him however, and we need to do it today!'
Mike nodded after he looked through the diary of things his son was capable of doing throughout the years. Resigned to the fact that the book was almost full, he nodded and sat down beside his crying wife. He enveloped her in a hug and apologised for not listening to her sooner.
Christopher was admitted to St Jude's hospital later that day and was put in a room on his own. That was where he was going to stay until his eighteenth birthday on the 6-6-2024. His parents packed up some of his things from home and found journal after journal under his bed about the things he dreamt of doing to others, the ways he wanted others to suffer. It wasn't until reading those journals that Mike thought back and became aware of all of the unlucky numbers that came about throughout the pregnancy and his unfortunate birthday and wondered if there was truth in superstitions for the first time.