Is Porn Inherently Bad?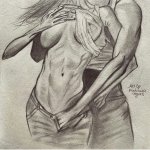 Thu, 16 Jun 2022
I am finding immense peace in knowing language is merely a made up concept, and because of that some wield it as a form of power either to ridicule, chastise or apprehend others.
Think how there are so many naughty and kinky pornstars. Are they, in some way, immoral or to be shamed? I am coming to believe that the act of having sex on camera, no matter how perverse, is an innocent act; even, dare I say, wholesome. Simply individuals acting on their innate desires, making money out of filming or just doing it for sheer enjoyment. In that case, porn-making is only a hobby, and for some, a meaningful and fun job.
Where does the shame guilt and sense of immorallity come from, then? Even when only viewing and not actually partaking? Could be for an array of reasons. Most notably, religion. And even beyond that, linguistics: the understanding and implementation of language. Archaic rules and boundaries made by ancient, unliberated people, perhaps?
But alas, the more further you go back in history and time, the more you realize that people's sense of sexuality and sex in general, was probably a matter of personal experience; an intimate act that was of concern to only those interacting and mingling. Then language came along, and there was likely a further divide from how natural sex is. How fluid sexuality too, is. Labels like gay, straight, bi, etc, suddenly surfaced. All very limiting and when looked at deeper, simplistic words. But many, live by these labels. As if swearing an unspoken oath of sorts. To adhere to a specific word choice, how ever natural.
Sex isn't the only thing words have made a mockery of. Many divergent, uniquelly thinking people's minds, thought patterns and even behaviour, is pathologized by the corrupt and counter-productive industry that is known as psychiatry. A host of made up words. Bipolar, psychotic, Schizophrenic, etc, conjured up out of thin air. Limiting the sanctity and divinity of the delightful and complex human expression.
Today, I lay here comfortably on my bed, and realize that words, although useful and even essential, are in fact, at times, counter-productive to spiritual growth and the well-being, joy and freedom we can experience as individuals: understanding why we exist, how we move through this vast, rich and textured world we inhabit.
Sex isn't bad. Porn is questionable, sure, but is unlikely to be an immoral and shameful act when examined for what it really is. It is simply grown adults sharing love and lust. What could be so wrong with that?
Since writing this post, I have personally come to avoid watching pornographic material. It may work for some, as a stress-reliever, a sense of intimacy when alone and in need of leisurely satisfaction, or whatever the reason one wishes to watch Pornography. but personally--I am happier without viewing anything x-rated. Again, this could change as time progresses, but for now, I've quit my ocassional viewing of this enjoyable and often delightful pastime. 
I am not here to judge, and I am certainly not better than anyone; the mantra for me, is, "live and let live." What may work for some, may not for others; just do what's best for you, and remember to love yourself unconditonally and irrevocably.
                     You exist for a reason