Belgrade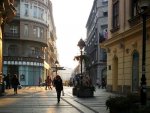 Mon, 19 Nov 2018
These streets have good bones, but the flesh 
is scarred. Buildings jostle each other
New with old, intact with holed.
That's the place I went to preschool, says my friend
Down there stood my grandparent's house
before the bombs. The Moscow hotel, Marx Engels square,
my great-aunt's Jewish husband worked in that building there
he survived the war but not his son.
It broke him.
Too many holes to fill, the largest city-scars
are fenced with graffiti. 
The taxi driver asks about green cards.
I speak, he says, I speak very well?
But I can't help him.
At night music blasts in the street
Bars overflow
Dancers smoke half-nude in the cold
Goth and gay as vampires at a funeral.
Oh, and this is where I used to sing in the choir,
I wonder where all the others are.
I remember when inflation went mad. We'd get our pay
Slip to black market to convert it
Go about our day.
Life is strange.
Cigarette dances ballet as she gestures.
Do you see the beautiful boots everyone wears?
You Canadians just don't care about clothes.
This poem records a trip I took in 2015, with a friend who was there to deal with the estate left by her mother's death. I noted some of her running commentary at the time.