Not a Night to Die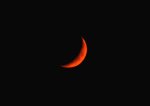 Wed, 30 Oct 2019
1 likes
Do not choose Halloween to jump from high.
When spirits break the veil
On this night you might fail
Spread broom and learn to fly
Not a night for cuts, when devil's marks don't bleed
A knife blade might retract at witchfinder's need
And lay bare blemished skin to piercing eyes
Or you may be kin to the wise
Do not swim out without a boat.
The lake is cold, and occult bodies float
You may face ridicule, if you try
To sink dark-clad below, and die.
This night when witches live, and fly.
Have hope, for Inquisition's past
And perhaps someday we all at last
Will live life, not a lie.
 
Photo "Blood crescent moon" (c) Jessie Eastland https://commons.wikimedia.org/w/index.php?curid=48112015