The Eyes of a Dreamer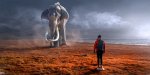 Wed, 23 Jan 2019
If you see it you can grasp. 
When grasping you need to hold it tight, 
Or your vision will befall in your own demise. 
Undertaking a dream is to tackle life in the fiercest manner, 
Being conventional is not an option, 
Unconventionality is highly endorsed. 
Those who took the easiest path were the easiest to defeat, 
the hardest to cross the path the higher the stakes, 
the higher the rewards the tougher the fella. 
The defeated remains taking the easy shortcuts, 
to unfulfilling adventures, 
the undefeated one remains in his true call in life, 
taking the path no one had the guts to do so.