the witch
Image: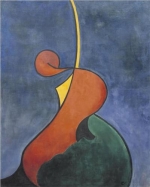 Sat, 10 Aug 2013
What becomes of the girl who is always alone?
She no longer awaits the return of the hunters;
she no longer makes the fire of thorn wood.
The wind blows past her ears;
she no longer hears the dancing-song;
the voice of the story-teller is dead.
No-one calls from afar to speak good words.
She only hears the voice of the wind,
and the wind is always mourning,
because it is always alone…
(Translation of 'Die Towenares' by Eugene N. Marais.)