If Tears Had Color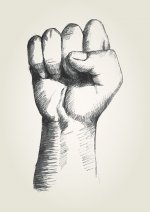 Fri, 16 Mar 2018
1 likes
If tears had color
Would we paint the walls?
Flood the ocean?
Waves of rainbow wrawl?
Would they be thick, like blood?
Stinking of human pain,
Would they smell like fear?
Would they dry and stain?
Oh, Mr. President,
Would we, could we, see your tears?
Would they tattoo your eyes?
Your nose?
Your ears?
Or are they just on your hands,
Corroding your cuff links?
They smudge up your screen.
Like a busted pen's ink.
You are disgusting- and you are callous,
Trying to swim, but your mistake was to doubt us.
You brought dark into this world,
Called things fake, black and white.
But our power was in color,
Strength in numbers, in fight.
Tears of resilience, bravery, and, yes, sadness, too.
If tears had color,
You'd don paint like a clown-- a liar. And a fool.
If tears had color, 
The whole world would be washed,
In the thick kind of pain,
From the mourning, wounded, and lost.
Because, if tears had color,
You'd still feign loss of sight.
And we are wading, not waiting
To take action and strike!