Small Tribute to Stephen Hawking IP
Image: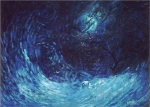 Sun, 18 Mar 2018
Dear Stephen Hawking.
You've always been special,
mind my childish gawking.
I hope you're feeling restful,
 in the stars and space.
I hope that heav'n treats you better,
than this earthen place.
You stayed here for a little while,
 but it wasn't meant to be.
You were meant for the stars and sky,
Or an old man with the sea.
Your mind was awful global, to point of madness be.
And yet I'm still wishin', you were down here-
right on earth with me.\
Now more than ever, we need your way of thinking,
Your calculation, memorization, speculation, tinkering.
I hope up there it all makes sense,
I hope the meanings good,
I hope it makes your heart immense
And he loves you like he should.
For now you're with a mind.
Of which, even you, may be challenged.
But I always had a feeling,
In humans, comparable knowledge was not founded.
And so I say goodbye,
I'll hand deliver, don't cry.
Catch you in the summer air,
On science shows,
I don't care.
To you, who knows.
But I'll be there. 
Your would  will be friend,
Love, Claire