Seaside
Image: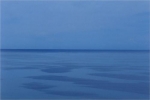 Mon, 06 May 2019
I sit on the shores of the coastline. The sand is warm, having absorbed the rays of sun that it's repetitively beaten with and the water dances with blinding radiance. The people around me are frivolous from the enjoyment of the day. They celebrate the perfection of Summer by lounging in the sun and wading in rushing water. I am unnoticed by any of them, my translucent skin isn't alluring enough to have people's eyes gravitate towards me. I watch them intently though, from my set-back position away from the threat of tides. Maybe if I watch for long enough, I will be able to replicate those joyous feelings once more and the divide between us will be closed.
Here on the beach, next to brightly coloured towels and between umbrellas the shades of coral, we're in an aquatic eco-system. The young couple to my right are sea horses, their poised bodies so delicately holding onto splendour. The Father's chest prominently sticks out with pride and dominance; he runs around with alarm to round up his five rampant children that float about the beach screaming. Their Mother sits back to soak in the sun, she has bigger concerns, like the small amount of white-wine remaining in her plastic glass. Down near the breaking point of the waves, two young men splash about, their demeanours remind me of Dolphins – skin hairless and glistening. I can tell they are used to being admired and excused for their transgressions. If I were to be a sea-creature, I would be a sea urchin – lurking just beneath the surface. I am nothing regal nor intriguing, I'm a stationary creature, ready to sting whoever gets too close. That's what you've turned me into.
I bite my tongue until I taste blood, a punishment for only lasting a few minutes before letting you swell into my mind; but now that you're in there I can't get you out. My feet in the warm sand does not feel the same as when they were buried in your clean sheets. Instead of ocean brine, I really want the smell of detergent on linen and rather than a towel under my thighs, I try and imagine the support of your mattress. No matter how tightly I shut my eyes and pretend I'm back in your bed, I'm unable to conjure a convincing escape, the sound of the waves unfairly holds me here. So, I give the sun permission to burn my skin, maybe it can burn enough of me that when it starts to flake and peel, the raw skin beneath will be the fresh start I need. I will no longer be craving you or the company that comes with you.  Will I also look different and refreshed? My skin no longer burdened with the wrinkles and blemishes that I used to hold some form of pride for. If I looked changed, would I start to be noticed again? Will I have the same youthfulness that drew you towards me in the bookshop, when you spoke to me longer than your customer service required you to?  Maybe if I could shed my skin, I would gain the attention of the man in my eye-sight, collecting shells in the space between wet and dry sand. He's attractive: dark hair, dark eyes, a musculature prominently wrapped around his frame. He wears light-blue boardshorts with boats repeating on them, they almost fade into the water behind him as if his intention is to be partially camouflaged.  If he did look up and caught me staring, maybe he would approach me, but if he were to put his ear to my open mouth, would he hear the sound of waves? Am I hollow enough that you can hear rolling dark water within me? Surely, if he heard that, he would throw me away in pursuit of a less faded prize. I might be able to change my appearance, but my loneliness is as sticky as sand to my skin.
As a distraction, I pick up my phone and squint to see the screen behind the sun glare. The countless dating apps that I've installed greet me with alerts – red and bold. I know what this type of toxic attention does to me, each app is as if I'm throwing out crumbs of myself onto the sand. Instead of a lonely sea-urchin, I could be surrounded by a swarm of sharp beaks and beady eyes, hungrily peaking away. They would follow the trail and reach my feet, tearing pieces of me inch by inch; muscle and skin scattered about.  I wouldn't be able to fault them for what they do to me, they would be acting on mindless instinct; taking what they need before flying off without thinking twice. And if by chance, one settled and wanted to build castles with tiny windows and doors, in my current state I would only wash away their expectations or cascade through them. I no longer know what makes me thick and sludgy and stable.      
The milk-froth clouds that only dotted the sky here and there have banded together. I want the sun to be blocked out and the safe space from water to be saturated. If the presence of the sun is blocked out for everyone else, we'd be on equal emotional levels again. I would not be the only one experiencing the heaviness of loss and disappointment. I put my phone back into my backpack to protect it from the encroaching rain – the temptation of filling empty parts of me with temporary things is also put away. I hug my knees to my chest to keep warm against the sudden crisp air and think back to what used to make me whole. I think it was always you, you and the people that love me, but you are not here, and neither are they. When I was younger my Mother told me that the people in our lives were like tides, with certainty, they continue to roll in and out and we can only enjoy standing in the shallows. So, I confidently let farewells wash over me; next to cars packed with possessions and in airport terminals - believing goodbyes would sit like grains of dirt within me, turning into shining promises of returns. But now I realise, I'm not filled with pearls, only specks of loneliness that constantly irritate me. This should mean I'm used to send-offs, but then why was yours like salt water against my cracked lips and why did my body go into shock from the coldness of you? Was it because it was so unexpected? Was I oblivious to you standing waist high in the indecision, just waiting to gain the courage to dive head first and break me? I suppose it doesn't matter (or at least it shouldn't) it doesn't change the fact that I've been brought in and rolled onto the shore like all the other dead things the water brings.
              Blooms of falling water begin to dot the ground, and just as I notice them, one splashes on the top of my nose. The ocean scents are replaced with the assurance of heavy rain and I know my wish has come true.  Collectively, people begin rushing to try and weave between the droplets – even those who are already wet from waves can't stand the idea of getting wet from rain. You used to hate the rain too, will you despise this afternoon turn as much as you despise me? In a matter of minutes, the once full beach is abandoned but I remain stationary a moment longer, letting the water settle on my skin and on my possessions. Now with the path from the water to my position clear, I stand and make my way down, stepping across the sand that's being erased of its footprints by the falling water. When my feet reach the line of broken shells and seaweed, I stop.  To my left, against a wharf, I watch the naked masts from the docked boats bouncing above the water for what feels like an eternity They remind me of tombs stones pointing to the sky; a memorial to loves lost at sea. I think that's where I'll put you and I. One day, someone else will look out and see our mast calmly bobbing against the waves and they too will see beauty; if I leave a trace of you and me, it may mean it hasn't all been for nothing. To my right, I catch the man with the boats on his shorts emerging from the water, like me, he doesn't seem phased by the current drenching of both land and sea. Gazing on his face as he steps out, I find myself trying to find you in his features – why do I torture myself like this – you are not here with me. The piece of you that I hold onto is by the barnacle-covered pier, and the rest of you is with someone else, hiding from the rain. So instead, I look for dissimilarity and I'm immediately drawn to his eyes hidden amongst wet hair; they're grey, like the clouds, not the mistrusting blues of the ocean; the clouds are always clear on their intentions, where the water can drag you out to depths where harmful things lurk. Much to my surprise, he catches my eyes with his and stops for a moment. He brushes the hair from his face and smiles at me. Do I look that miserable that I require the sympathy of a stranger? After a second of hesitation, past the point of simply offering a courteous smile of condolence, he begins to cross the space between us until he stands a mere breath away. Maybe he was never looking for shells but instead, pieces of shining sea-glass that once were sharp and broken but have now been shaped by the water into something else and maybe that's exactly what I'm becoming.