21 rules for life, or how to fit in, or how to just, you know, swallow the whole unpalatable thing whole (from the gab of a 43 y/o London-born loser)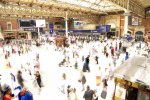 Mon, 04 Mar 2019
1. There is no happiness just a gurning and a low-level anxiety and displeasure and a living in -- and for -- a non-existent future. The world reduced to sofa and Netflix. Make sure to be busy at all times so you don't have to find yourself home alone even if with the cherished domesticated animal.
2. WORK: Something chill but versatile and post-massive-non-tax-paying-corporate, a name like Revolut, definitely not old-hat and high street, you've been there 3 years and 2 months with WFH and European travel - Amsterdam and Munich - and not in any particular place at once but not too flimsy and machine-learning or dry back-end codey so it doesn't stand up well on your LinkedIn profile.
3. You will be glued at all times to a ray-emitting screen constantly forever and in perpetuity.
4. Have fam with kids or please yourself don't, either way be convinced that you'd be much better off the other way round.
5. Be tall as a man but obvs not too tall like some gangly 6'5'' Scottish fucker that has to duck when he gets in at Archway.
6. Drive an i3 or the new Tesla SUV thing that only comes in electric blue or don't drive at all, get Ubers or some hailing app no one's heard of on a constantly self-regenerating promo code, or scoot on your child's scooter thing, or run there and back to work like a chicken that's got one poking out the guff hole, or be triangular-faced crazed robotic cycling demon never so much as deigning to put one foot on the ground at the lights however much effort required, EVER EVER EVER EVER.
7. Vegan protein shakes keto and no gluten obvs but also a smattering of wild hand-reared organic venison from an eco-conscious something-or-other in the Outer Hebrides. Don't be vegan though as in the person (girl) who draws attention to it (recipes, sun-dried toms, brings food in for handout), just do it softly without fanfare. Obvs you don't eat any meat or fish or eggs until someone sees you eating those things and you brush it off with a blanket denial you were  vegan in the first place. Start sentences with: I find that if I have x in the morning then…
8. Work out in gym so you can just stand around and be taut and needlessly justify existence. Don't be scrawny. You can never be too big but you can certainly be horribly puny and look a bit spazzy, or at least like you've got rickets.
9. Don't be weird or different, don't not fit in unless a goth or bona fide member of a cult or religious tradition where people can immediately clock that you're not one of them so you get a pass and they don't have to relate to you or measure themselves up thank god and judge you remorselessly or tell that you're as unhappy angry and dissatisfied as they are. Also, don't pursue niche activities especially as a moderate failure. Don't be an embarrassingly bad writer for example.
10. Canadian Goose is absolutely fine whoever gave a fuck about geese?
11. Know by now the two types of people, the liked and the unliked, broadly congruent with those who fit in and those who don't. Be liked, so be nice and flattering but also hard and tough and give out that you-ain't-gonna-walk-over-me-boss * vibe and finding a neat balance and saying what needs to be said that you don't then have to be one of those people who people don't like which must be quite depressing not to mention frustrating having to grow up all these years as a pariah and still going on that way deep into middle age LOL.
*Understood not as employer, but as forced term of endearment used by Uber driver to youngish male passenger
12. The correct response to the unbearable how are you? inquiry remains not too bad, thanks. Don't say not too shabby unless in chipper ironic opening gambit response greeting to a group of friends in a Kentish Town pub on a Thursday night.
13. Know that it's both true and good that you are and will never be required to exchange glances with anyone on  the street let alone say something in word. The street is just an interim conduit to the location of a non-stranger or your house or the Planet Organic on Tottenham Court Road.
14. I repeat: never be home. Always plan to leave not one future moment unspoken for. Always out busy and purposeful, thereby having something to say when you go in on Monday morning.
15. Facebook: study it. Facebook videos similar to posts you've interacted with. Cats befriending ducks lashing out at snakes. Facebook even though long since deleted from iPad (mini) or even if it's last screen of iPhone so you have to thumb right as far as it goes. Toilet use defecating Facebook, judging the shit out of people, judge and hate what they're posting, Facebooklike (FL) it, but then secretly life-like it (LL) whilst not wanting to like it at all and hate them for getting FL's and then you not getting any but trying to rise above it all at your age, the memes and the gifs and the imgurs "MY GIRLFRIEND BE LIKE", and other stuff conceitedly telling you how you to be and feel. Which is just like how everyone else be's and feels. Think the most disgusting things you can, 'cos no one can read your putrid mind.
16. Anti-Zionism doesn't equate to anti-Semitism and Jeremy Corbyn's a cunt.
17. Receive recommendations on Netflix with good grace without having any intention whatsoever of watching Mrs Maisels whatsits. A potentially good show has now perhaps been ruined in perpetuity, though I seriously doubt it.
18. Always hold on tenaciously to the idea that you're better than, using your half-baked achievements as props, suppressing the doubt that comes through verifiable empirical information. Stick to your guns and be deluded or you might have to rejig your identity.
19. Facebook again.
20. Pronounce the word Instagram by garbling the 'insta' syllables so the word breaks in on itself like a collapsible star.
21. Some things don't last forever, like Fjällräven Kånken.