23 questions for the dying man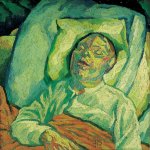 Thu, 15 Aug 2019
1. What is it like lying face upwards in this hospitable bed, immobile? Is it palpably different to life, and if so, in what way?
2. Is breathing somehow different, each in-breath and out-breath?
3. Are you fully aware? What is the tenor of your thoughts? Is there a qualitative difference to how they once were?
4. Are you eating or drinking?
5. Have you since caught yourself in a mirror?
6. Can you move and to what degree?
7. Is this the right age, 72, 81, 86? Did you imagine you'd be just a little bit older? Perhaps you don't feel old or ready? Yes, more the ready bit. Do you imagine you'd be more resigned if you were over 90? Or at least if your brain had muddied under Alzheimer's?
8. Did you have an inkling of the physical cause? Did it come on gradually? A lifelong condition like diabetes? Were you a smoker, unhealthy, a bit reckless, did your father have cancer etc.?
9. Do you know and accept that you are definitively dying? You, the dying man. Is there any similarity to the bit before being sick, in that you can put it off to some degree, but when it really wants to come, it just comes?
10. If you weren't scared, would you let go and slip off without ceremony?
11. Have you ever really let go in your life?
12. Is there a new fear in this moment, or is it just a variation on the normal fear/future-projection thing, wherein you can't imagine yourself not alive and that this projection is so unsettling so that you can hardly take a breath without everything being doused in fearballs, and every moment is agony, and you feel so overwhelmed yet also like someone or something should be able to retract it all and allow you to live, as if just a bad joke?
13. Did you ever truly rid yourself of all those bare and horrible self-conscious feelings of childlikeness, the proneness to tantrums and having things your own way, the rage, the rage towards your father and mother, the victim complex etc.?
14. Is there a wellspring of this rage in there which gets triggered by the prospect of dying? A sense of self-righteous unfairness. You want to scream and shout but can't? Why happening to me etc?
15. Did you do everything you wanted or are you even just regretting the regrets for regretting sake? Are you looking over yourself for example and thinking: was I a decent person? Does any of this matter?
16. Do you feel any different to how you were at any other age? If not, then what are you but the same man in different body? Different cells, different structure. The psychological you unaltered. Did you imagine that there'd be a point at which a change would set in, like a wisdom or acceptance, something along those lines?
17. Is there a corresponding emotional state to the actual dying such that something just clicks inside and you become supremely ready and free of fear? Perhaps this is chemical and happens in the brain? Maybe it hasn't happened quite yet…
18. Have you lost all the people you loved at just the right time i.e. very recently in fact so you haven't had to grieve long and so we could say you're ready to join them?
19. Did you take care of everything: children, dogs, will, your belongings all nicely packed up and labelled so they can be fedexed directly to heaven?
20. To what degree are you thinking of your offspring? Have you thought about what they might be feeling about you going? Is there any self-pity or are you looking at it purely from their perspective?
21. Have hospital staff/visitors shown any semblance of understanding of the kind of torment you're going through, and/or have they been able to convey the idea that death is not to be feared and just a transition and you're fully convinced that they hold this conviction?
22. Have the partially-formed, partly-believed ideas of the eternal moment, of you being the universe, creator, there being no separation finally settled in, so that you truly feel there's nothing to destroy and it was merely a construct that just perpetually thinks and for no good outcome?
23. Is hope extinguished?