The Talker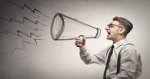 Wed, 27 Dec 2017
Most people talk to differing degrees but the Young Man was an exception. He was silent, reserved, and could come across as morose. But inside he wasn't morose at all. Inside he was full to bursting with a feeling like joy. But no one would have known it, not the most observant person, not even the Mother, who had known him all of the Young Man's Life.
He lived in our village but his precise age was unknown.  Sometimes he looked thirty-five, sometimes he could pass for a child. But this didn't concern others as he hardly talked and they rarely noticed him passing.
Nothing was certifiably wrong with the Young Man and this worried the Mother and made her seek out professional advice. GP's speculated, specialists examined but they couldn't find a cause. There had to be a reason, the Mother felt. But really, the Young Man was reluctant. Not that he never spoke at all. He spoke in the face of direct stimuli, closed questions, or with animals and children younger than he was. But he spoke sotto voce so much so that you'd miss his retort if you weren't paying attention. 'Where's Lisbon?' you might ask. 'In Portugal' he'd say. Incidentally his voice was unremarkable and normal.   '5ft 8', if you asked him how tall he was. But the young man didn't talk, he didn't engage in dialogue for the purpose of cementing emotional bonds.
Now the Sister was a few years his senior. A bright loquacious chatterer who loved to talk. Any sort, any place. Sometimes to complete strangers, sometimes to no one at all, always with herself. And this very much pleased the Mother, who was a reluctant talker and was heartened to have an offspring who could compensate for her own tendency to withdraw. But this circumstance impacted heavily on the Young Man. Around the Sister he found it especially hard to talk. She was first to react, to snipe, first to correct, first to respond with a harsher judgment, all before the Young Man could assemble the words in his brain. Can you imagine having no time to talk? Do you want to..? TOO SLOW. Could you please tell me..? TOO SLOW! And the conversation got away from him like sand through fingers. He lost interest and went into a shell.
But the Mother persisted. There must be something wrong, she said to the Sister, now complicit in the intervention, and the Mother was determined to find it. She sought out more doctors, analysts and even practitioners of alternative therapies, but to no avail.
Now as the Sister grew up, and as the other children grew up, they started to realise that talking was not exactly as they'd previously conceived it. Talking was more than opening mouth to words and sounds. It was establishing warmth and bond, it was play and joking, even warning people off; talking really was the way of love.
But the Young Man just saw talk as talk. Something brick and mechanical. But all the while, he had plenty to say. Internally he lived under this burden of unsaid things, bursting at the seams behind his great pure loving heart.
And then one day it happened. Just tinkering with a pen, doodling something, he started to write. Unconnected words at first, sentences ungrammatical, unformed, incoherent, but soon rounded off to intelligibility. He'd not done it before except at school.  And as he wrote, he felt this was like talking. He could deliver these words, unhurried by Sister and the world, and when he looked down at them, he beheld something external which couldn't be removed.
So he was really writing. And as he wrote, he saw the meaning of the writing from a singular point of objectivity. As he read back what he had written, he feared that what had come out was not necessarily what the others would want to hear, and this made him sad and anxious. What had come out was radical and shocking and could even be interpreted as mean-spirited. Where had it come from?
He had said that the world was all wrong, people weren't happy, why hide, pretend, why do jobs they hated, forlorn, sullen, avoid on the streets, heads down, avoiding, defray or deflection, muddling along, programmed, oblivious to nature, (the Young Man was intimately connected with nature), we were nature sky and earth, the harmonious balance, gaze of a tiger, how not see truth, the peace secreted, the Now, a cascade,  future that never came, children grow up sad, neurosis down the pipeline, brought in, corrupted, held to defeat. And how did they expect the children to be happy, in confusion, stress, gritted teeth, exhaustion, depletion, no patience, dissembling, anxious, unsure but hiding it, masking with alcohol, never be without lubrication of alcohol? And the children saw these things and played on them and the parents were triggered because the children saw them, the things they didn't want to see themselves.
All these things the Young Man held deep to his heart, believing them so strongly, steadfastly, and despite his misgivings, he wanted to scream them from a steeple, for everyone to hear. In his village was a church in the Bavarian style, with a bell tower, and in spite of himself, he took the paper, clambered up and started to read.
A trickle of people passed by.  Who was this Young Man? Did they know he lived in the village? But they didn't listen, not that they knew why. They didn't listen because he was still only just talking, mechanically. But he came back the next day, he persisted, wondering why they ignored him, but convinced he'd have some effect.
Until one week later something clicked. It was a twist of fate, this thing might not have clicked, and he might have remained as he was his until he died. The Young Man became aligned to the others. He merged with them. And an old man in a farmer's hat shouted 'shush' and there was hush except for the voice of the Young Man and the words he was saying. They listened because he was really talking because what he said could no longer be ignored. And more people gathered, and the Mother came down with the Sister, the Mother in shock to find her wordless son commanding the attention of one hundred people, and the Sister in the throes of a stone-cold deathly silence.
And the people understood what the Young Man was saying. It was not the words. The people saw what he needed. It was not the message. They saw that they must talk to him and make him feel the love he had always longed for. And the Young Man felt good, and he felt blessed.