In Thrall To Phil Collins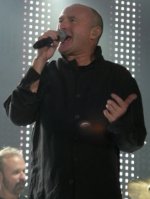 Thu, 20 Jun 2019
     In thrall to Phil Collins who punctured and punctuated our once hallowed airwaves.
     Collins, master of mood and air.
     Last night in half-dreams, enmeshed with Phil Collins.
     First the haunting entreaty of #1 One More Night, the stringy melancholy, its pleading insistent repetitive strain, its genuine sadness, the soaring key-change on moving back to the verse. Collins and key-change, verse to chorus, chorus and back. There's a patience and determination in the dirge of the chord change. All it needs to do is meander, and we can indeed wait forever.
     To the fast-bop smash of #2 Easy Lover, Bailey and Collins, sensuous out-there, urgent and thrilling. 'Before you know it you'll be on your knees'. The two-step staccato baab-p-baam of the revved up guitar before the phrase 'she's (waaaaj), an 'easy' (waaaaj) 'lover'. And  on the phrase 'you'll never know', that unresolved chord hanging and looping perpetually in the air, making us wait, and wait we do, but back comes the voice eventually, it always comes back in to soothe. (Collins' voice is a comforter and safety blanket, at once measly and adroit, the improbable combination of Barkingside welder and doo-wop aficionado.) This is a dance hit on par with Jagger's and Bowie's.
     From here to #3, Another day in Paradise, the serious social agenda. Austere.  The reediness of the synth/piano line, everything in Collins replete with this reediness, blowiness, like an enormous pan pipe's in the ether taking up three tracks of the recording. Lyrically of course a stern exhortation: 'think twice', appealing direct, so we feel really in the song.
     Wouldn't you agree? Yes. #4 A groovy kind of love.  Once again, Collins' focus on the manifold aspects of love. And again the charged reedy quality to the synth/piano line. Just a melody creeping up, Do-re-mi-fa-so, and back down gain but who'd have the vision and gall to pull this off except for say, Czerny or Purcell. But the pleasure comes even more in the Wagnerian continuation – refusing to relent, failing to resolve, building and building. Wouldn't you agree?  In truth the chorus line a slight let-down, but it couldn't be otherwise.
     Can you feel it  # 5 coming In the air tonight? A majestic inquiry, rightfully grand and anthemic. Again, the voice. Something rattish, seeming to come out from the background rather than permeate the song. But how it never fails to envelope all the way from that background. And the unforgettable power-clash of thunder percussion like a set of wet-diarrhoea farts. A minor strain; foreboding.
     #6 Two hearts living in just one mind. Back whabaam on the Bailey doo-wop tip. The standard Collins juxtaposition of death knell with schoolgirl disco. His thin reedy voice again, reassuring in yet another on-its-own-merits lilting jerky masterpiece. And still we're not done….
     #7Sussudio, Bateman cheerfully dismembering prostitutes' bodies.  It's another mysterious-girl-thing love story, the name cleverly evoking the Shoshone. Again the sleight-of-hand/magic in the start-off melody in the verse. It rises, 'There's a girl, she don't know my name'. How can a melody rise and never fall? Ask Collins. Sorry guv'nor, I've got a question…