The Vanity Crew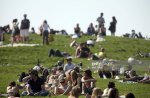 Mon, 09 May 2016
Hot arch summer days are the pits. But even worse are those ambush days in early May after two weeks cold and showery, when you're not expecting sudden change, even though colleagues have enthused it's going to be 26C this Saturday. I'd been content with nights in with my new boiler after three years of makeshift heating. I knew that everyone else was at home dutifully abstaining from fun and sex. I'd enjoyed the hail showers and the five second sleet flurries, on my couch, legs splayed out to the side with my right hand wound around behind me clasping the radiator, wallowing in the dual miracle of 1) having central heating; and 2) such heating needing to be fired up well into the bows of April. 
Suddenly I find I need to squint below an arbitrary sun. Too bright to stay indoors - my sanctum is disturbed and I go out and run. The sun is like a bedroom table lamp; you don't need it on all the time, sometimes you want to sleep or stare up into the unlit void. I don't want it the whole day unless I'm in Thailand or the South of France, and here in Hampstead the sun goes on lighting things up until at least seven o' clock so you have to wait and wait and wait until you regain a facsimile of feeling cosy and private.
The sun ekes them all out of their hole just to remind me how irredeemably alone and pathetic I am; the settled young families towing 2 and 4 year old, the vacant daters, the bruvs from nearby council estates, the overloaded visitors from Europe always looking energetic and purposeful and chatty; everyone's going to rub it in my face today how chilled easy and liberated they are, people who for almost the entirety of the last 6 months did the decent thing and kept themselves cloistered. But the very worst for me is this last amorphous group – the twenty to thirty something vanity crew, the flat-sharers, the on-display crowd, the mate-seekers, the body-conscious, carefree sleek and slick. I can't seem to make out any significant signs of their unhappiness and the more I see they're at ease, the more I detest. Can they really be so bolstered by showing off -- sun sundresses and shorts -- when their whole lives are miserable and subservient and petty, and are they not mindful that the weather can return to dull and overcast at a blink and for the entire next three months their conceit will vanish, and their absence from the universe would not make the blindest bit of difference to anyone? They play Frisbee or volleyball over makeshift nets on an impractical downslope, or they just splodge on towels or those floral/Sanskrit/Buddha blankets looking aimlessly into the air, transplants from Battersea picnic with rattan baskets and plastic champagne flutes, good honest locals skin up sickly industrial-strength skunk with or without Corona but you can't quite make out where the smell arises, late twenty-something media-sales males rested on forearms, heads up, half-cocked, boat shoes absent socks, the £9.99 de rigueur white plastic-framed sunglasses from H & M, and so I wonder how can I ever be liked, me/I who is basically deformed, too short, too old, a strange body posture and unusual gait, how is it that I could ever be taken seriously by one of these impeccable, shimmering, petite, long dark-haired beauties who sit with a respectable ennui, languid, back up against their boat-shoed Jeremy, just looking out, looking to be looked at, to be noticed but not bothered if they're not, just there resting in the utter consummate bubble of their undeniable attractiveness?
I walk by silently as if in land-mined territory or through an auditorium of meditators. I dare not look but if I do I wear a singular scowl of contempt; I make no effort to conceal my anger which I say to myself is not really about them, but just my own dissociated anger. I sneer, I feel distinct lip-curl. 
But there is a greater enemy and my whole energy is directed into abstaining from exchanging any sign or communicating with my obvious compatriot sufferers and misfits, those aging thirty-something men upwards whose hair is going, who don't wear the right clothes, who aren't tall enough, who've decided for some reason that they're going to eschew the mandatory ritual of working out and making yourself bulky enough in the bicep and triceps for any self-respecting girl to want you to put your arms around the area just above her waist and squeeze her reassuringly. I frown at those people, those men. I say: don't you dare take me to be one of you. I might not look great now but I'm out running, I would never  have worn just a non-descript black V-neck vest like that, and why are you carrying an ochre JanSport rucksack from 1998? Ochre is a woman's colour. Could you have not tried to make it less obvious that you're either sad, an alcoholic, estranged, or friendless? Could you not have made the effort in order that I don't have to be reminded about myself, be confronted with that constant battle as to whether I am or not like you, maybe slightly better, oh only slightly, which is not good enough, since I'm still the wrong side of the age and boat-shoe line. I daren't look, but I literally don't know what to do in those fifteen or so steps just before we cross when I know that you have seen me, that you know that I have seen you and we also know that we are both desperately trying to deal as best we can with these fraught steps, that I am really trying not to judge you, but I can't love you and I feel I owe it to myself to show haughtiness or I'll be admitting to myself that I'm no better, that I won't fight this thing anymore, I will resign myself like you have done to bachelorhood and loneliness.
I glance at my watch and it's two minutes past two. Just another five hours and this whole horrible thing will be over.