What's So Merry About The Day?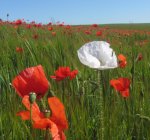 Mon, 25 Dec 2017
It's Christmas morning and he's gone. I think he always knew his last breath would be his parting gift, thanks Santa! Now the words Merry and Christmas, don't have a nice ring to it. I avoid uttering them to mother, she'll cry more. Father keeps acting like he's okay but he'll probably snap if hears it, and Lucy is only three months old, nothing besides her wailing makes any sense yet.
"Merry Christmas, Leo!" Mr Arnold shouts over the fence. I'm building a snow man out in the lawn, nobody noticed I left the house. 
"It's Christmas alright!"  I reply bitterly. The winter chills consume more of my heart than my actual skin. It's just, why today? Why did he have to go today? Why did we have to lose today?
"Everything alright?" Mr. Arnold leans into his fence, any further he'll tip over, I worry. There's already enough tragedy going around. "Where's mom and dad, Leo? Shouldn't they be helping with the snow man, it's still family tradition, isn't it?"
"Not today," I mumble, dusting the snow off my gloves. "Sometimes traditions change, Mr. Arnold." It was pointless, I was sad too. Sad enough to quit tradition, and so I stopped building the snowman. "Grand dad went to sleep and... well, he never woke up."
"Oh, Leo..." Mr. Arnold struggled to get over the fence. With the heaps of snow and no where safe to land, he decided to walk around the fence like any civil person would, before joining me on the door step. I wanted to be inside, the chills started getting to my skin, but I find it easier being sad alone than sad together. So I shivered in silence.
 "Do you want to talk about it?" Mr. Arnold asks.
"I already did." I wrapped my arms around my body for comfort. "When somebody dies, what else is there to say besides he... he left?"
"I'll say I'm sorry-"
"You didn't kill him, what do you have to be sorry for?"
"I say it so you know I care."
"But do you really?" I never meant to be a snob but I think I felt bad about how I handled it with mother. When she told me he was gone, all I said was okay, and I meant it. But when it triggered more tears, and father had to come in and take her out of my room, and the noise woke up Lucy  which only sparked a tear fest between mom and Lucy, it felt like 'okay' was wrong. But I meant it! "Do you think I should've said I'm sorry?" I ask Mr. Arnold after telling him what happened. He stays quiet, giving it some thought. "Mr. Arnold?"
"Yes, Leo?"
"We won't be saying Merry Christmas today."