Autumn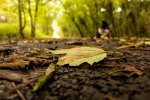 Sun, 01 Nov 2015
A schoolgirl draws.
An advert scissored from a magazine is transmuted into graphite — petrified by her sharp, light pencil.
Lines for hair: rapid, patient, wave on wave.
The delicate scratch of the lead, pencil oblique, shading, evading — pools in the page.
Her own brow creases.
Not quite right.
~
Sketch to painting.
Line to radiance.
Past to present — the drawing ignites.
~
A dark green flame in a dripping hedge.
Droplets of drizzle almost too fine to see — jacket sequins and beaded hair.
The swish of cars and the murmur of parents after the school run.
The moment freezes.
The details breathe.
Red brick, wet lips, weird throb of déjà vu, grey on grey on grey clouds, a maroon car, tingling skin, leaves stuck to the soles of her shoes, lightness, closeness, recklessness — man.
~
Their paths cross in the morning race.
A smile is exchanged.
Nothing is said.
Little is thought.
Something is felt.
~
A schoolboy dreams.
He shuts one eye and opens the other to the september sunshine slicing through the classroom window.
When he swaps over the classroom turns blue.
Bleached.
Blue.
Bleached.
On his desk a hexographic tube-map of atoms, molecules and chains.
Capital letters and small numbers.
Bleached print on a bleached page.
Two seats ahead and three to the right, she scratches the nape of her neck.
~
Man of fall.
Fifty winters fissure his skin.
His leaves are shedding.
His trunk is thick.
His eyes teem — alive? Afraid?
~
Pupils shuffle in from lunch, uniforms awry.
Two cohorts pass in a corridor with scuffed walls and linoleum floors.
Two awarenesses dilate.
The boys disown their comrade's distress.
Girl's giggles splash down the hall — into the light.
The past vanishes into the light.
~
Autumn woman.
Age is thinning her like a fallen leaf:
Eyelid veins though tissue skin
Cheekbones tight as new bruises
Slow gait on slender legs.
Her smile is frail.
She is strong.
She feels him turn behind her.
~
A horse chestnut blows from a tree and bounces off the pavement — season's first?
~
On a conjugal bed, in a curtained room, new beings are being made.
Not children — not summer again:
Manticores of man and woman,
Grafts of sap and stem.
His belly fuses to her back
Her hair flowers on his shoulder
Her thighs branch over his.
~
Sixth form discoveries:
The lightness of choosing where to go.
The weight of choosing who to be.
The church garden that is never locked.
The anxious bliss of marijuana.
The way a conversation can end in someone else's eyes
And leave behind:
The cyclic splashing of a fountain
The lazy gunfire of teenage chat
A split chrysalis around a child's heart.
~
A zoo inside an ape.
A forest in a tree.
Euphoric creatures fleet through their nerves — rising.
White life that wants them to die.
Suicidal hands inflame the mob:
His on the wet nub where she divides.
Hers splayed over his
So he enters the V of her fingers as he enters her.
~
On the way home from school.
On the way into space.
'You're so flawless and elfin and… anodyne,' he tells her shoes. 'Everyone's like, infatuated with you.'
A line on her forehead — not quite right.
'You're beautiful,' she tells his Greek profile and the varnished sky.
Their feet stop walking beneath a spectacular yellow Linden tree.
~
The pavements crunch with acorns, chestnuts, cones — the trees will soon be bald.
~
A man at the door.
A woman trying not to wait.
Curtains drawn at 3pm.
Mouths and bodies sealed.
They twist, reposition — wrestling joy;
They write the cycle of their feelings
— lust, delight, sadness, guilt, ennui, frustration, lust —
With the circle of their flesh.
It's harvest time
But they sow each other
Until a soaked furrow contracts around his tongue
And her mouth is shot with seed.
~
Their first kiss goes on for decades:
Yellow leaves sail down
As a middle-aged man dresses in a wardrobe mirror.
Hesitant hands skim the sides of her school shirt,
Then pull a smartphone from a suit pocket
Wearing a wedding ring.
Memories redden, dry, and fall.
The light shows through them.
The past regrows.