No ghosts here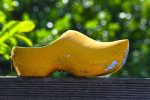 Wed, 13 Jan 2021
1 likes
My grandad's house – I went there so many times in real life and so many times in my dreams. Then it was remarkable, that pebble dashed ex-council house. Now, it looks like any house, now that he has gone. My Dutch grandad made it remarkable, because he was there, because he was remarkable. In my dreams, he used to be there when I visited him, but no longer, now he is always missing.
            the doorbell made a deep chime
            tubular bells hanging inside,
            roses thronged around and above
            my grandad, round, cheerful
            stands before us
            throwing the door wide
Alone I always went around the back of the house. Tulips, daffs. Clogs outside the door for gardening. The back door always wide. Once it was closed and I thought he'd gone for good inside but he arrived back, laughing that the neighbour and I thought he was dead.
I sit by the gas fire
heat almost melting the chair and me
he's asleep, snoring
the cigar smoke has gone
the telly shows sport
as I drink fizzy and eat a biscuit
His pictures, oil paintings, all around us. Model kits. Boats, cars, aeroplanes. It's been like this for years. It's still there in my head. In my dreams. But he has gone, everywhere. Out of date 60's chairs. Threadbare carpets. The enormous rented colour TV. In the other room the great lumps of wooden furniture. That cold room with a smell of damp. The scary echoing stairs. The super scary toilet that flushed like an angry demon. Those ghostly carcasses of furniture, dressing table, tall wardrobes, the spare bedroom, two high beds.
My grandma declined in that spare bedroom
no hospital for cancer patients then
laying there, vanishing
years later my cousin and I lay in those beds
separately secretly wanking
I stayed many times at grandads during the holidays. Sometimes my cousin there too. We'd make model kits after going down the town with a fiver from grandad. Back at the tall table, drinking coke and eating snacks, getting high involuntarily from glue and paint. Knocking up a terrible model kit, knocking up a model kit: terribly.
            In the early days
            before grandma went
            and for a few times after
            our Dutch relatives visited
            speaking in Dutch, earnest conversations
He talked to me like an adult. We had fascinating conversations. I did learn much about life, or the circumstance of life, much was stories. He'd make me big fatty meals. When my mum came we'd have ham and cheese white bread sandwiches. Then a sickly dessert.
That council house
with the long garden
fishpond, flowers, fruit trees,
bowling green stripe lawn
the garage at the end
childhood home for dad
heaven for grandchildren
And to watch it gutted when he died. That furniture burnt in the garden. And to see it now, any old house. His spirit gone, his life removed from the building. Replaced with others, like he'd never been there. Like he never existed.
            Of course, it only reminds me
            that this will be my fate
            and the fate of us all
            to be blotted out
            removed
            like we never existed
            leaving no lasting trace