I'm Not Disappointed, I'm Just Angry Chapter 6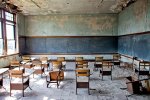 Sat, 21 Jul 2018
Chapter 6
June 2005
Teacher interviews
These are horrific. I've lost count of how many I've endured, but I've been through them at all levels from trainee to Senior Leader. They range from informal chats and an observed lesson to two-day journeys of discovery that make Dante's little walk look like a lazy afternoon 'doing projects' in a post-SATs Primary school[1]. A recent application saw me lead a discussion on something pedagogical[2] with the Senior Leadership Team, be interviewed by the SLT, deliver a strategic vision in a ten minute presentation to the SLT followed by formal interview, then be interviewed by the students, then the staff, then conduct a lesson observation and feed back to the teacher observed all under the supervision of the Head who then interviewed me about the lesson observation. That was day one. Day two was a lesson observation where they actually saw me teach children (just to check the last ten years weren't a fluke), a data task where I was given two years of information and ten minutes to form an action plan and present it, another interview, an inbox activity[3] and another interview with the people I would later line manage. I've even had to apply for my own job on more than one occasion due to 're-structuring'. There's nothing more demoralising than sitting in a room of your peers and being told that your job's under threat. Too many good people have been 're-structured' due to budgetary concerns or due to the whims of some powerful people who have others powerful people's ears. I've heard horror stories of staff being forced out of jobs or denied jobs due to ridiculous reasons. Here's some for the more macabre amongst you:
Reason 1: Money. Example: 'Due to budgetary concerns we are reducing the Senior Leadership Team by one.' We all know who the one is. All of SLT[4] have to apply for their own jobs, only one is not successful. This one is also ritually humiliated at staff meetings for asking pertinent questions. Around a month later the budgetary concerns seem to have evaporated as the SLT increases by two members of staff. The one is now living the best life abroad and fair fucks to her.
Reason 2: Sexuality. Example: A previous colleague recounted a time he was asked to apply for a promotion in the school he already worked for. He did so. He was unsuccessful. Another, female, candidate was successful. Previous colleague then moves schools, slightly mystified. Previous colleague reads in local papers of lesbian affair between Head and successful candidate and their disappearance with a rather large portion of the school's budget for the year.
Reason 3: RP. Having never been the most well-spoken I really should never have applied to teach in Winchester. 'Your letter of application was very strong, but you're just not right for us.' Translation – we though you were posh because you write posh. Go tarmac a drive, Paddy.
Reason 4: What application? The Head runs into my office and apologises – 'We didn't get any application from you.' Luckily I'm at my laptop and show him my sent box where my meticulously prepared and proof-read application sits like that smelly kid from Primary school, you know the one? The one with the thing. But it's all ok because the Head smooths is over magnificently - 'Oh, sorry, we've given the job to someone else.'
Reason 5: 'We don't like you because you don't play with us and please stop telling us things we don't want to hear.' Note with caution the tale of a teacher of 30 years experience hounded out of a school because she was 'old-fashioned'. 30 years of dedication and service and not even a leaving do. That's what speaking your mind does for you.
Reason 6: 'You're not a team player.' 'Ok well I'll fuck off then and take all my experience and general amazingness with me cos I'm better than you.'
Reason 7: Already working in the place you apply for a job in. 'Well you already work here but we only let you apply for the job because we were afraid nobody better would apply and um, well rather a lot of people who have applied are better than you so would you kindly toddle off as you've not made it to interview but we'll still expect you in the morning to work out your notice.' Been in this situation. I was the candidate they chose.
Reason 8: 'You didn't speak enough about x[5]'
Reason 9: 'The Head thought your subject knowledge wasn't up to scratch.[6]'
Having completed my training year it's now time for me to apply for my first real job. A certain sense of triumph and anti-climax pervades as N signs off my Standards document nonchalantly (I cunningly waited until she had managed to procure another job somewhere else where they don't (yet) hate her before putting my folder of evidence in front of her) and casually states the two most profound and useful things she's ever said to me, 'I haven't really been the best mentor,' and 'We never made it to the stationery cupboard did we?' A signs off my professional standards folder in the shade beneath a cherry blossom tree in the Uni grounds. This is forever how I will remember her and is a phenomenal metaphor for this most gracious of ladies I knew for far too short a time.[7] 
The interview day goes a bit like this:
0700
I pick R up and drive 90 minutes to the interview. R is a woman also on my PGCE who I vaguely fancy (due to the fact that she is female and I desperately need someone, anyone to like me please!) but would happily tyre iron and leave by the side of the road to land the holy of holies, an NQT job starting in July[8].
0830
We get to the interview school and then sit in a room of other people who don't want to commit to talking to us in case one of us doesn't make it. R and I are luckily the only candidates and we make polite conversation while sussing each other out. We have both prepared a lesson to teach and chat about it being as deprecating about our own lessons as possible whilst secretly going 'Ha! You've messed up here and this is mine!'
0845
The first phase is a meeting with the Head. He gives a long winded summary of why he's great and why the school's great (despite the fact that we later learn he's leaving) then asks do we have any questions. Feeling vaguely like I should have prepared some questions I ask where the toilets are, followed by a swift 'Who's your daddy?' and a professional 'Is that your daughter? Nice.'
0900
Lesson observation time. Y7. 11-12 year olds. Sweet and polite. I instantly want to work here. I get each student to write their names clearly on some sticky labels I've brought to avoid having to point at random children and go 'You! Answer me!' R runs into the room asking do I have any sticky labels. It's in the bag.
0945
Lesson over and back to the staff room. Queue a tour from the students of the school (That's the gym where we do sports. That's the Art room where we do Art. Fascinating) and an awkward lunch with the department making small talk in between ravenous bites of tuna and cucumber sandwiches. I proceed to make an inappropriate joke about alcohol. Silence from the department. It's not in the bag.[9]
1015
Interview. I hate these. I mean I really, really hate these. I get grilled on my lesson – standard fare, be confident but humble. My professionalism – questionable. My abilities to cope under pressure – I think of laying toilet piping to stop me spurting on the third stroke. And my subject knowledge – 'I know a lot about a little and a little about a lot.' Finger guns. I am told this is not specific enough and not to make violent threats, being from Norn Iron and all. This all leads up to the killer question – the safeguarding one. Even if you're Stephen Hawking who fancies slumming it as a part-time Science teacher, if you fuck this question up you've no hope of ever teaching. You are always asked what you would do if a child came to you with a disclosure[10] There really is only one answer to this question – don't promise confidentiality, tell the student you may need to pass information on, don't ask leading questions, pass this on to the SSL/DSL[11] as soon as possible. This is a murky area, one I've come into contact with more and more often as my career has developed and I will explore later.
But for the moment,  long story short – Reader, after being told off for my scant knowledge of the semi-colon and for having my sleeves rolled up during the formal interview – I got the job. (Told you it's my book and I'll do what I want.) Queue uncomfortable car journey back home with R and a bit of a darker tone on the horizon.
---