Quixote by the Chip Shop Light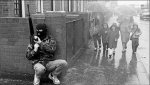 Sat, 07 Apr 2018
1 likes
It wasn't until 18,
long-limbed, thin-skinned,
armoured in song and story,
that I realised the monsters had eyes
just like mine.
I'd gone further than any of my kin,
plucked from the comfortable hills and drumlins.
To the big smoke.
Where the porous walls were taller, greyer.
From the no man's land of class,
hidden behind heroes and books of heroes
I eyed them. Furtive.
Loving, learning and losing
just like me.
I hurt one once.
Kicked his head in on the Linenhall,
by the sweat of the vinegar bins.
Fuelled by a song of drink,
by kings and curraghs
by the belonging
by the mob
by the bluster from a church of noise.
I wanted to see which colour his blood ran
so I plucked an eye from a monster,
like some B-movie Ulysses,
Quixotic. Pyrrhic,
but I revelled in the sweet pain.
I saw victory and defeat in the eyes of my own mob.
He even cried
just like me.
I paraded my knuckles.
Proud flags.
That one split his lip.
That one will scar.
Each blow was a step toward some union where the air was sweeter
despite the blood tang.
The mob soon scattered.
Dissolved by time and commitment to more concrete things.
Work and women mostly.
Only a few remained steadfast
the hardy sons of song and story.
We've all grown up now.
So it's all ok.
And me? I was a footnote.
Just another soldier
in the war of who was wronger
and when it stops mattering.