A Slip of the Tongue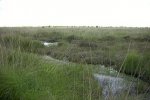 Wed, 04 Dec 2019
Dialect of my mother -
oozed from rain-sodden currents in Derry's Foyle,
sailed from Irish Sea into River Mersey.
Windswept, weathered, sing-song notes.
Meltwater brogue of bogs, fairies and goblins,
smoky with whiskey, cigarettes and bacon, drawled around peat fires.
Tempered, fighting in wild lands and wilder streets,
tales of long-dead, ever-present Troubles.
A bitter marriage let loose her lips in Liverpool,
riven with gin and tobacco,
her coughed-up cadence
rooted in me.
In Somerset, my guttural sounds evaporate,
easy as mists on the Levels,
flattened like sea-salted marshes,
into a twang of mud-soft notes that dip and rise.
This mix of burr and buttercup vowels
among cider-thick tongues like acid on limestone,
jiggle through gorse and moss,
circle orchard's lias stone walls.
Still, the north lurks, sedimented, marbled.
A slip of the tongue in my mouth,
un-snared.
All revealing.