The freedom train - Delarosa, 17th February, 1978 - part 2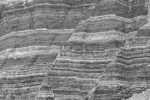 Wed, 05 Oct 2016
http://www.abctales.com/story/noo/freedom-train-delarosa-17th-february-1...
I'm thinking about beginnings and endings often at the moment.  Where things start and stop.  One of the old women in the senior block brings her endings to me in a brutal, unexpected way.  I give her time because I have time, and she gives me a reason to sit and listen and feel I'm contributing to the community.  Her name is Vanita.
When I go see her, she's sitting in her chair by the window.  Her walking stick is resting on her knees and I notice how swollen her ankles are.  On the low table in front of her is a glass of Kool Aid.  The room is hot, and the combined smell of leaking bladder and unchanged water from the flowers by her bed makes me gag.
I give her the old monkey I had as a child, the one I threw into my suitcase at the last minute for no reason I can rationalise, and she puts out both hands to stroke it.  She tells me about doors.
The first one is a door she knows well.  It's wooden, old, and there are scuffs where it's been pushed open with feet many times.
She tells me she's in a bedroom.  Her bedroom from when she was first married.  It's poky and floral and it smells of sex.  The glorious, yeasty smell of recent sex. She's in bed and the man next to her has his back towards her.  She loves every last inch of him. The line of tan on his neck, the secret white of his back. The girlishness of his buttocks and the soft, dark hair on the back of his thighs.
She strokes down his spine and he makes his usual, little grunts.  Contented, primal noises that mark the shift for him between sex and sleep. She pushes her leg between his and she tells me she's wondering what her mother would think if she saw her now, and she giggles.
As I'm listening, I'm picturing the room she's in and thinking about the bars and bins I've been fucked over, and I just feel sad.
And now for Vanita and me, another door is appearing.  This one is glossy white, newly painted.  Across the top, there is a line of stencilled ducks in what she tells me is an eau de nil colour. She opens the door and it swishes with the movement of recently oiled hinges.
This room has its blinds partly drawn and the sun is casting bright slants on the wall.  In the cot, Vanita's baby sleeps.  He's on his back and his little fist is in his mouth. She treads on a loose floorboard and the creak of the old wood disturbs him and he half cries.  She picks him up and holds him tight, his head under hers.
He's so new, to the world and to her. She feels the pillow of his nose and the gaping shock of his fontanelle.  She rocks from side to side in a movement she's never made before, dream-like soft.  She tells me there's nowhere else in the world she'd rather be.
But this door is replaced by another one – along a passageway she knows well and the new door is half wooden, half glass.  It has a porcelain plate, with lupins on it and the word, bathroom.  Vanita shuts her eyes tight and she tells me that more than anything, she doesn't want to go through that door.  She wants it to stay shut, but that's not the nature of doors.  Doors are made for opening.
Vanita tells me she's in a small, steamy bathroom.  The walls are green and the tiles on the floor are black and white squares.  The room smells of eucalyptus and baby powder.  There's a blue towel spread out by the side of the bath and in the bath, there's a group of little, yellow ducks and a giggling child.
She tells me the doorbell is chiming and to the child, she says she won't be a minute and that he must not stand up or try to get out.  He must wait until mommy comes back.  She's only gone a minute, she tells me.  Only one minute and she's running back up the stairs.
Vanita describes him lying on his front in the water and later, as she holds him after the terrible minutes she tried to save him, his eyes are wide open and they're not blinking.  His fine hair is pushed back, dark and slick. She cradles him.  "He was my little fish", she says to me.
In her room in the senior block, I tried to calm her.  She had begun to cry.  Not the drip, drip leak of the old, but the no holds barred bawling of a child.
She still held my monkey in her hands and when I try to take it off her, I was amazed by the strength of her grip.  It was dusk and I switched on the nightlight by her bed and went out of the room to see if I could find anything she could take to calm her down.  But when I came back, she was dozing in the dim light.  I left her there, thinking about the starts and stops of things - how easy it is to have people around you, how easy to lose them.  Running, like water, through your fingers.
Mornings start with leaflets delivered to our rooms, typed in cramped lines across flimsy paper.  Jim's thoughts writ large, in case we have managed to block out his voice.
Don't make announcements over the speakers when guests are here unless it's cleared by Jim personally.
Finish the backs of the benches.
Remember people on discipline – if you give me shit, you will be on for a long time.
Don't project things so negative.
Lock up all chainsaws.
Don't walk around in night clothes.
Confer – don't make independent decisions.
We need to kill the fly population.
We have to save the peanuts.
Tell no one the formula for soap.
On White Nights, don't ask if it's a drill.
Each crew will be armed tomorrow.
And I still don't know what to think, so I sit by the tree where I go to talk to Sissy and instead, I think about Vanita and Jim, and my parents, and my little fish.  I think about the endings of things.
About future mothers' days and babies killed by drunken fathers in cars.  About little boys beaten behind doors on which their names are spelt out in wooden zoo animals.  About children sleeping on white pillows and mothers watching over them, with plump, smothering cushions ready in their hands.  I think of fragile heads and discarded skulls.  Of gossamer curls and the deep black ditch of head wounds.  Of chubby baby hands and the brittle grip of bone fingers.
I wonder why I'm here and what will happen next. But in the end, I stop my crying and wipe away my tears, because what else can I do?
In the afternoon, I go to the town forum in the Pavilion and I see for myself Jim's power.  There's a big crowd gathered in the room and in the centre of the people, I notice a woman.  She's stood on a podium, tall and dark-haired.    One of Jim's guys speaks over the microphone first as the crowd goes quiet.
"So I hear you think you're something?  Hear you're sleeping where and with whoever you please?"
The woman stares straight ahead, but even at the distance I am from her, I can see a dark red bloom flush across her face and neck.  The crowd is murmuring, but Jim's guy hushes them before they can get any louder.
Then Jim appears from somewhere to the left of the microphone and walks towards it. But another woman – no-one I know – reaches it first.
"What makes you think you got anything anybody would want?  Well you know what?  You ought to just take off your clothes and show us what you got.  You ain't got nothing." 
I see Jim smile and nod approval as the dark-haired woman begins to take off her clothes.  She does this quickly and without delay.  She stands there naked in the middle of the crowd, as they jeer and comment on her legs, her breasts, the shape of her buttocks.  The dark red bloom spreads across her body.
Jim sits down again, still smiling as he looks at the woman over the top of his glasses.  Then he gets up and goes to the microphone.
"No-one is going to betray me.  No-one", he says.
The crowd hold up their hands, reaching out to Jim, and in this moment, I feel the very first definite movement of my baby.  It's a clench in my stomach, firm and confident, no longer the fluttering of a little fish. And I put my hands over my stomach and close my eyes, listening to Jim's voice.  To God's voice.
*
(Some of the conversations are adaptations of real Temple members' words, housed on the Jonestown San Diego University educational site.)