Lost and found - Moses, 31st October, 1997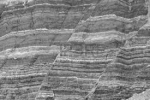 Sun, 06 Nov 2016
Lost and Found
Moses – 31st October, 1997
When Moses was fourteen years old, he saw an angel, and the angel put his hand out to Moses and stroked his hair.  Moses had looked up at the angel - into its old, sad eyes – and he'd wept.
In the back yard of his grandparents' house, the man the boy had become (as is the inevitable path of boys), sat on the swing chair, looking at the pumpkins his Grandma still persisted on lining up along the railing round the stoop.  Like he was still a little boy.  Like he gave a shit.
Carved with grimacing, empty faces and glowing from the stumpy candles in their hollows, the pumpkins looked back at Moses.  He knew soon his Grandma would call him from the house, asking him to answer the door to the trick or treaters, pushing the tray with Elvis' face into his hands - the boiled lime and orange candies skittering across its scratched surface.
Halloween was the one celebration his Grandma still went along with.  Thanksgiving had diminished to almost nothing, as had Christmas.  But Halloween was a date she marked on the calendar, if throwing candies through a crack in the door at shrieking kids who were high on sugar, and eating sour pumpkin soup in a silent kitchen counted as marking a date.
On his swing chair in the back yard, it struck Moses that his Grandma's adherence to this tradition was about making her ghosts welcome.  A dead Delarosa and a dead Gretchen knowing exactly what to expect - coming home after all these years to their mommy and daddy.  Breaking free from whatever cold earth they were resting in, to eat thin soup in silence with their family.
Moses felt closer now to Delarosa than he ever had - he'd found her in Jonestown, or at least the possibility of her.  When he'd returned from San Juan, he'd thought about talking to his Grandma about her, but decided against it.  In the same way he'd read about the early utopia of Jonestown, he didn't want to think about how things ended, and talking about Delarosa might make him have to consider this.  Besides, the closer he felt to his Grandma, the further away he felt from Delarosa. The two together weren't possible – they were separate worlds and he was swinging between them.  To and fro, not really touching either.
When he was fourteen, he'd asked his Grandma if he could go to Portland with two of his friends and for a few minutes he'd thought she was going to agree.  Sure that the ordinariness of the plan -the normality of it - would tickle something in her when she considered his basic oddness.  But then, like other times, she'd resorted to the security of no.  Portland was too far away, it was too dangerous, you couldn't trust the city.
"You don't know what you're thinking", she'd said.  "You're not a man.  You're fourteen.  Fourteen" and as she'd stood up from her chair in the kitchen, he'd flinched from her sudden fierceness.
He remembered he'd said nothing and his Grandma had sunk back into her chair.  Deflated, defeated.  "I don't want you going to the city.  Anything can happen there.  Stay here where it's safe."  Moses hadn't argued, but had fully intended to slam the kitchen door in protest on exit when he heard his Grandpa whistling.  The whistling tugged something in his heart, but he wasn't sure what it was.
Later that evening, he remembered it had rained.  He'd stood in it, looking out to the woods at the bottom of their yard, feeling the water eventually soak his hair and infiltrate his scalp.  It had pooled into dirty looking puddles on the deck and he'd imagined he was in Portland.  Watching the same rain glinting glamorously under street lights, in the monochrome cool of the city.
His Grandma had called him and he'd gone into the kitchen.  She'd been baking a cake and the room was full of its heady, spicy scent.  She'd asked him to go fetch his Grandpa from the shed he defaulted to when he was mending something or when he wanted to be alone, which was usually.  Moses had thought about the taste of the slice of cake she'd promised him when he got back – its warmth and new baked sponginess – and then he'd gone to the shed to fetch Grandpa.
He'd had the shed door open and through the doorway, Moses could see he was shaving some wood – a length of floorboard it looked like - on the lathe he had attached to his work bench.  To Moses, already a good head and a half taller than him, his Grandpa had resembled a toddler; trussed up against the cold in his hat, scarf and too large for his frame, plaid jacket.
As Moses had walked into the shed, Grandpa looked up from his work.  He'd propped the wood against the work bench, kissed his fingers and then gently brushed Moses' cheek.
In the shed, everything was laid out carefully and precisely.  The various pieces of wood and metal. Tools and paint.  Moses had sat on the beer crate that doubled as a seat, watching his Grandpa as he continued to smooth the wood.  He remembered the wood was golden, glowing – almost burnished – in the light of the hanging work-lamp.  Moses noticed too that although Grandpa's hands were veiny calloused, they were also steady and sure.  The work-lamp had cast darkness in the deep wrinkles round his eyes.
And then Grandpa had begun fumbling with the zip of his trousers and Moses knew what would come next.  Looking back, he thought he always knew what would come next.  How he knew, he wasn't totally sure.  Maybe from a look, a smile or the brush of a cheek. 
Moses pushed the beer crate under the work bench and kneeled on the floor in front of his Grandpa.  The taste of him was salty, complex.  The taste of a deep, dark sea.  For a minute, Moses was a little boy again on a beach gone green with algae.  On a beach where he heard his own voice out loud for the first time.
Afterwards, Grandpa had whistled as he swept up the wood shavings and placed the wood he'd been shaving up high on a shelf.  Moses had wiped his mouth with the handkerchief he'd found in the pocket of his jeans and then leaving his Grandpa to continue tidying, he'd left the shed, shutting the door behind him.
The angel had been in the yard, standing by the quince tree.  It was beautiful and ugly.  Muscular, squat, alone.  Moses had felt certain it was made of metal, fired in the furnace of the sun.
It had opened its wings and to Moses, it seemed as though it was only their weight that had pressed it to the ground.  It had moved its arms, posing in the manner of angels holding bugles in old paintings.  The fire at the tips of its wings cast long, jagged shadows across the yard and Moses could not believe this angel was a gentle one.  This angel was elemental and dangerous.  A messenger, a bringer of wrath.
But then, it had put out its hand to stroke Moses' hair and Moses had seen the glitter of its tears, and he'd wept alongside the angel.  The angel had closed its wings and bowed its head as if in shame.  The last Moses saw of it was the still burning tips of its wings before it disappeared, like a hackneyed magic trick, into a plume of smoke.
Moses believed in Delarosa, like he believed in the angel.  With steadfast trust.  The trust of a child  She would appear, she would.  She would.  Like an unexpected messenger and she would save him.
The knock on the door and his Grandma's shout signalled the Elvis tray was waiting for him and as he got up from the swing chair, he saw  a crow throwing raggedy shapes in the quince tree.  The cries of children snagged too in the tree's branches, their sounds as inconsequential and wispy as wood smoke.
*