Morrissey es Dios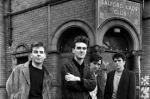 Thu, 18 Jun 2015
The boy with the thorn in his side
As always, the music hit him.  Hard and deep in the pit of his stomach. It was always like this from the first time he'd heard them. And Angelo would never forget the first time.
At his cousin's in San Andrés Mixquis, a hot May evening, 2009.  Aged eighteen, sat on Javier's bed settee, The Smiths' How soon is Now? booming through the speakers. The bass notes had gripped his solar plexus and never let go. Not once for the six years since.
Angelo had become a Smiths' enthusiast. A nerd, a geek.  He'd collected everything about them, bought every track, every B side and rarity.  Their lyrics especially spoke to him, but for Angelo it was always about Morrissey.  Morrissey was The Smiths.  When he started working through Morrissey's solo work after the band split, if the truth be told, Angelo loved it more. The vastness of his angst and melodrama was what he connected with.  His music's irony and tension.  An underdog speaking to underdogs.
Angelo knew he didn't get all of the references in the lyrics (who the hell was Reggie Kray?), but it didn't matter to him. He didn't have to get the songs – he had to feel them and he did.  Their sadness and loss in stories of unrequited love, the unguarded giving out of profound emotion.
He wasn't the only one who felt this way.  There were many others in the bars and clubs of Mexico City.  Morrissey fans. Lovers and emulators, recognisable by their strident quiffs and suave style. That, and the tattoos of lyrics, his signature and the man himself on arms, chests, legs and necks.  Karaoke nights in some bars were in reality Morrissey nights, with burly, grown men singing their heart out to The First of the Gang to Die, crying without macho shame at the poignancy of the song's words.
Angelo's latest tattoo was nearly complete. Heaven knows I'm Miserable Now loud in his ears masked the pain he was feeling in the tattooist's chair, and he smiled when he stood up to look at the thorny rose briar twisting round his midriff; the words from the song, new red raw above the middle flower.  "A murderous desire for love."
Later in the Amor Más Grande bar, Angelo was riffing on his usual topic and his patient friends listened with their usual, grim tolerance. The mix of builders he counted as his friends and the scaffolders he worked with, were not Morrissey fans.  But they liked Angelo and even if they'd wanted him to quit talking about Morrissey, it really would have made little difference. Angelo was going to talk about Morrissey!
"The shirt he wore on the live at Albert Hall version of Irish Blood, English Heart was beautiful, man. You see it?  It was god-like!"
"He's a god?  You go find him, brother.  Go back to where he came from.  Follow his routes, go make the pilgrimage!"                                                                                                          
Walking home around midnight, stopping to spray-can Morrissey's image on the shutter of a shoe shop, the words still niggled at Angelo – like a thorn in his side – and he made his decision.  As the rain drenched the pavements, the thought ran through his mind.  You know what?  I am going to make a pilgrimage.
***
Bigmouth strikes again
Six months later, Angelo could be found on a plane from Mexico City to Manchester.  Thirteen and a half hours in the air, listening to The Smiths and Morrissey on his iphone.  And if anything, they sounded even better up in the clouds.
He'd quit his scaffolding job (he wasn't worried, he'd pick up something when he got back) and squeezed his mama for some money to boost his meagre savings.  The draw of the streets had nearly returned him to them, but he'd pulled back.  He didn't need money that much, going back into The Life was something he'd promised to leave years ago, and not even Morrissey was going to make him jeopardise that.  Sometimes in life, there were people and situations that once they were in your past, you should work hard to make sure they stayed there.
When the plane set down at Manchester airport in a dreary, grey dawn light, it was raining.  But this kind of pleased Angelo. He got rain – it was what he heard in Morrissey's music. And did people not think it rained in Mexico City?  He had himself a natural tendency for gloom and the gloominess of Manchester comforted him.
Then there were journeys.  Through the airport, by taxi to the drab bed and breakfast he'd booked online in a city side street, and then later that evening by foot, through the streets of central Manchester.
Manchester was both utterly familiar and unfamiliar to Angelo.  His English was good, so it wasn't that.  He both knew the place through his obsessions and he didn't know it at all.  It was almost as if he knew the dream version of it, the version he held in his head.  But there was a harsh brashness to the real place that still surprised him.
For his part, he stood out, even in the sprawling metropolis.  His tall, fifties' quiff (studiedly based on his idol's - circa 1984), the magnificent swirl of his paisley shirt, the artfulness of his tattoos on his neck and hands made him cut a dash.  But perhaps it was the gladioli (fake and bought from the Arndale Centre) lolling out of the back pocket of his jeans that sealed the deal.  He was like a beautiful parrot, left over from a bygone age and discovered anew in a world too dull to contain it.  Not that anyone bothered him though.  The routine seemed to be, as people walked past, a glance, a look away, another glance, an eye roll and a tight lipped move on.
Angelo couldn't remember when he'd felt so happy. He sat outside Starbucks, soaking up the vibe. Then he went into the toilets and flamboyantly largely (and rather beautifully) graffitied 'I love Moz' four times across the condom machine.
***
Some girls are bigger than others
The next day, Angelo woke up in the bed part of his bed and breakfast with a splitting headache.  He had a vague memory of meeting some guys who suggested going for a drink that became five, then eight, that became a long afternoon and a longer night.  He remembered too the singing and dancing and the talking about Morrissey.
Over the breakfast coffee and toast, more detail seeped back and he recalled the plan the guys had suggested for today. Angelo wasn't even sure who they were.  Students?  The Manchester equivalent of his Mexico City builder amigos?  He didn't know, but they hadn't robbed or beat him, so he wasn't too worried about their pedigree.
And the plan was beautiful!  Today, when he'd got his shit together, he was going to meet the guys at a pub called the Fuck a Duck (could he have got that wrong?) and then they were moving on to the holy of holies. The Salford Lads' Club.
He had a copy of the picture by his bed in his crib. The Smiths outside the old building.  Victorian brick, 'Salford Lads' Club' in white writing above the arched entrance. The others, all sheepish nonchalance and wan faces. And Morrissey, high hair, arms folded, bemused and slightly cruel faced.
The picture had been the inside cover of The Queen is Dead LP and from his research, he knew that the people who'd run the club at the time had hated The Smiths being associated with the place -  with their songs about vicars in tutus and dead queens.  But it didn't matter to Angelo.  Today, he was going there at last.
But first stop, the Fuck a Duck.  He barely recognised the guys in the half light of the bar. One of them (Big John, he reminded Angelo) had met him outside the bed and breakfast and they'd taken a bus to meet the others inside the pub.  It was a Saturday lunchtime and after the bro hugs and self-conscious "Yo mano" s, they settled down to watch the band that were playing. And weirdness of weirdness, it was The Smiths!  Or rather, a piss-poor cover band, The Stiffs.
Angelo watched with growing horror as they mashed up various songs into one, lengthy Smiths' tribute. The pedant in him could hardly bear the lyrics from separate songs put into one Frankenstein's monster of a song. "Frankly Mr. Shankly, burn down the disco, but what difference does it make?"
And they'd added sax!  Now Angelo was no musician, but The Smiths needed sax like a hole in the head.  Big John told him he knew the sax player, a massive, blonde woman, who Big John said had the stage name of Saxifrage (sexy Madge with her sassy vag, he mystifyingly added).  Angelo sat there, listening with his natural gloom deepening, wishing for it to end without the necessity of violence.
But an end did come and by half past two, they were out of the pub and weaving their way to the Salford Lads' Club. Big John had dragged Saxifrage along too and from a distance, they made a strange bunch.  The Mancunian guys, Saxifrage (was she a woman?) and the Mexican Morrissey.
When they were right outside, they got into position for the recreation.  With the original picture googled on someone's phone, they stood where they needed to and posed as they should.  Angelo could have quibbled about the authenticity of Saxifrage as Johnny Marr, or the height differences of Big John and Man Mountain Mike as the other Smiths, but he didn't.  He was in the zone. A worshipper of Morrissey and up until the moment the camera phone clicked, the god himself.
He stood there, Angelo, the beautiful, exotic bird, and under his breath he whispered, "Esta es la vida!"
"What's that you say?", said Man Mountain Mike.
Angelo turned to him and smiled.  "This is the life", he said.  "This is the life."
***