Pebbles on the beach - Moses, 23rd February, 2000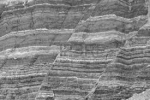 Fri, 09 Dec 2016
Pebbles on the beach
Moses – 23rd February, 2000
"You want me to tell you what happened?  Then I will."
Moses listens to Sissy's voice across the wires.  He has no picture of her in his mind, no sense of how she looks or who she is.  All he knows is that she knew his mom and he didn't.  That he found her through the Jonestown survivors' group and he needed to talk to her more than anything else in the world.
"I saw you on the floor by the vats of liquid", she begins.  "I'd gone into the Pavilion before Delarosa and I knew she was coming in too, but in the crowd of people, I missed her.  I almost can't remember what was in my head.  A sense of urgency, I guess.  A sense that everything was going to shit and I couldn't understand why.
I think too that I felt Sissy needed saving, but from what I wasn't sure.  She was so young, you know.
Everyone was gathering in the Pavilion.  It's what we did – when things were good and like then, when things were bad.  We needed to gather together to protect ourselves after the Senator had come to… I don't know, check up on us.  There were all sorts of rumours rushing round the crowd.    That he was sending the army in to the complex.  That he was going to send us all back to the US.  That Jim's men had killed him and his people at the airstrip.
All I know for certain was when I heard the children screaming and the babies crying, when I saw the people drinking the poison, I just knew I didn't want to die. And then I saw Delarosa.
She was at the front of the line of people by the vat on the left hand side of the room and she was taking her shoes off.  I moved forward, pushing through people who let me pass in the chaos of the moment, and then I saw you.  I picked you up – you were damp and hot and alive – and then I ran.
Out of the Pavilion. And the men with the guns didn't stop me.  I'm not even sure they looked my way.  I ran through the complex, past the apartment where I lived.  You were crying and wriggling.  You were so hard to carry.  I'd picked you up in the tie-dyed scarf Delarosa used to wrap you in.  But I did a thing I can't explain.  Before we went through the gate, I went back into Delarosa's room and took your crib – a woven basket type – and a blue blanket.  I put you in the basket and went through the gate and out into the jungle.
I balanced the basket with you rolling round it, jolting from one side to the other.  I couldn't run, but I could still move with some pace.  It's weird what fear and purpose can make you do.  The words on the sign by the entrance to the Peoples Temple developed a rhythm all their own as they became my jungle companions.  Welcome to the peoples agricultural project.  Welcome to the peoples agricultural project.
I must have walked three miles, maybe four.  I remember the heat and humidity and insects snapping at my ankles and neck.  I remember your weight and how very quiet the trees were.  There was no rush of wind through their leaves.  No bird song, which I guess was unusual.
When we reached the river, I wondered whether this was what was always in my mind.  I remember I sang to you.  It was no real, recognisable song.   It was more sounds from a mixture of lullabies, something from my childhood maybe.  I kissed you and then I placed you in the river.  By its edge, visible to anyone who came past.
I can't give you a solid reason why I did what I did.  I just kept thinking what would Delarosa have done and it occurred to me while thinking this, how little I really knew her.  And if the truth be told, I knew what she was intending to do and it wasn't this.
After I put you in the water, I didn't want to look at you again and I walked away from the river.  Again, I can't say I had any sense of what I was going to do next.  Not really.  But where I ended up was back in Jonestown.  In the quiet of aftermath, stepping over the dead.  It's funny, I suppose, but loyalty runs strong in me, so I went back to where my loyalty lay.  Besides, where else would I go?"
Over the wires, Sissy has stopped speaking and for a second, Moses contemplates the silence.  It occurs to him insanely that it would be polite to thank her for what she did, but he doesn't want to.  He feels certain that she doesn't want his thanks anyway.  He wonders too whether she should have saved him.  Whether this was even her decision to make?
Sissy is speaking again, but he hasn't heard what she said properly, so he asks her to repeat it.
"I said, have you lived a happy life?"
But Moses doesn't want to answer Sissy's question.  He doesn't know how to.
Instead, he listens to the tinny sound of waves coming through the receiver.  It's the sea, but so far away and diluted to have no reference to the sea he knows. And he remembers being a child at the beach and the first words he spoke on that beach at the age of seven.  The little girl sleeping by the waves who he desperately wanted to wake, but couldn't.  His grandparents and their meagre offerings of love.
Moses can only meet Sissy's words, her truth if that's what it is, with silence.  He has nothing to say and nothing more that he wants to hear from her and so he sits with the phone in his hand, listening to the sea.  To the remote, unreachable sounds of seagulls.
*