The pier and the clip clop horse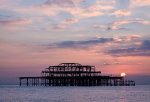 Sat, 29 Aug 2015
When the pier burnt down, I was sitting on a bench, watching it and thinking about what to write.  It wasn't easy.  I was all out of ideas. I'd got nothing. Nada. 
I had the idea of describing the pier as a gorgeous woman, with the fire serving as a metaphor for the ravages of time on beauty; but it was pushing it.  I thought about putting together a punchy commentary on the state of the nation, reflected in the burning of the pier; but it seemed trite.  Instead, I settled on sitting on a bench, watching as the flames rose higher.
It was a strange combination – the fire and water.  Something that really shouldn't go together.  In the half light of dusk, the fire's orange was garish against the sea's steely grey. And the poor old pier twisted darkly, like it had a burden on its shoulders, weighing it down.  At its extremities, you could see various girders and wooden beams sliding in to the water and I imagined the pier was almost relieved that its tenuous grip on existence was finally over.
When the old woman came to sit next to me, dusk was shifting into black night time.  Although it was May, there was little residual warmth in the air and I pulled my jacket closer round me as the sound of sirens and the shouts of onlookers filled the sea front.
The woman was wrapped up and it was difficult to get a sense of her actual age, but she radiated resoluteness.  A kind of determination to the set of her jaw and a thrusting back of her shoulders when she sat down next to me.  For a few minutes, we didn't speak and left to me, we probably never would have.  But suddenly she shifted her position and turned to face me.
"I used to dance in that pier", she said.  "In the ballroom, when I was young."
I smiled and made some polite, non-committal noise.
"I did, you know.  You might not think it, looking at me now; but I used to glitter when I walked in to a room.  Heads turned, I'm telling you."
I didn't know what to say to this, so I turned and steadfastly looked out at the burning pier.
"Why won't you talk to me?"
Well, I don't know you and don't have much to say anyway.  I'm just sitting here, watching the pier."
As I said this, I felt my lack of engagement - as well as embarrassment for having no good reason not to talk to her and no excusing, distracting thoughts in my head.  Hell, I could have used a conversation as the starting point for writing, but I would have had to listen to her to use the interaction!
I'm sure she sensed my lack of interest, but she wasn't going to give up.
"Why do you hold yourself like you're an old man when you're about half my age?"
She'd hit on something.  I was forty five and I did feel old. I'd only recently moved to the town and I knew no one my age. I felt lost –neither here nor there.  Without the comparison of the young, or the very old, I couldn't place myself.
She continued.  "When I was a little girl, I used to play in the woods down the lane from where we lived.  I was never me.  I was a horse.  Galloping along the tracks, breeze in my mane, following my own will.  I'd clip clop and clip clop and then I'd stop and run out of the woods and run home for tea.  I was me again, not a horse any more.  The point is, I was me again."
I looked at her as she got up and walked away, along the sea front, disappearing into the crowd and the night.
She'd woken something in me though and in the smell of the sea brine and the flibbertigibbet of the pier's ash, ideas began coming thick and fast.  I went back to my hotel, so I could capture them and pin them down in my notebook. Forming them into words, so they couldn't float away.
Years later and I'm here again.  On the same bench, watching the sea, watching the waves on this unstable autumn afternoon.  I've been doing lots of reading over the last few weeks and a line from 'The Narrow Road to the Deep North has really stayed with me.  "The world is, it just is."  And you can't say much more than that.  Not really.
The pier's still not being rebuilt all these years later.  It's got its own, settled on form – a meld of iron and wood.  A helter skelter skeleton on the waves.  But it doesn't seem sad at this.  It knows what it is and it's simply a question of perspective.
If you see a pair of cats watch raindrops rolling down a window on a wet afternoon, they see them individually and uniquely.  Only as each, particular cat sees them.   Like no other cat has seen them before or since. Do it, watch a cat watch the rain.
***