Porajmos - The Devouring - 2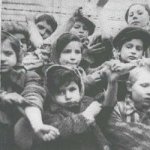 Thu, 14 May 2015
http://www.abctales.com/story/noo/porajmos-devouring-1
Abendessen
After the picnic, Antje's father has been at work for hours. But he's done exactly as he's promised and he's come back home to have dinner with her.
They're sitting in their dining room at opposite ends of the mahogany table.  Antje is wearing her blue, silk dress that her grandmother sent from Berlin when she was well.  Her father has told her that now she's a big girl, she needs to dress for dinner.
The table is polished and the light from the candles makes its surface like a mirror.  Antje can see the reflection of their dishes of meat and vegetables and gravy.  Her father's wine glass sparkles.
Antje thinks the food smells lovely, but underneath it, she's aware of the horrid, burning smell that sometimes comes from the buildings nearby where her father goes to work.  This evening, the dining room windows are open and the horrid smell is drifting into the room.
Her father's talking to her about things she doesn't really understand, but she's listening intently as she knows that this is the polite thing grownups do over dinner. They talk and they listen, but Antje wishes her mother was here.
"You see, little Antje.  It's not just a question of the Jews.  It's every last workshy, grabbing bastard there is.  Every one of them needs dealing with and make no mistake they will be.  The homosexuals, the gypsy scum.  All dealt with and soon.  What we need in this country is work and order.
Life unworthy of life has no right to continue and it's all our duty to end that kind of life."
Antje has heard her father talk like this before.  Usually, when he's been drinking wine over dinner and each time, she notices how his face goes darker and his nose more pointed when he's talking.  At these times, her mother usually tells her it's bedtime and they go up to bed together.  But tonight, her mother isn't here.
Suddenly, her father stops talking and he puts down the wineglass he's been waving in his right hand.  He looks at Antje.
"You don't know what I'm talking about, do you?" he says.  "But you will, Antje.  You will."
*
When Ina came back from the toilet block, she couldn't find her dada anywhere.  It was like he'd just vanished, or had never been there in the first place.  She asked the women and the men who shared her room – she even asked the old man who slept in the bunk above her, but nobody said they'd seen him.  She asked the children too, but no one could tell her where he was.
She felt so worried, but she also knew he would never leave her alone; so she was sure that all she really had to do was wait until he came back from wherever he'd gone to.  Of that, Ina was certain.
But when she was queuing for her dinner by herself, she was surprised he still wasn't there because he was bound to be hungry after all the digging he'd done.  She sat down on the long table next to a woman she'd seen before who had a kind face and she tried to eat.  The heat of the day had made her hungry too, but without her dada there, the black bread and cheese was even more tasteless than usual.
She tried to listen to the conversations around her and she stared at the side of the kind-looking woman's face as she talked quietly to the man next to her on the other side of Ina.
"We've wandered the earth for centuries and now they herd us into this shit-hole and trap us, like rats.  If what they say about what happens down the corridor behind the door on the right, is true, it sounds a better option to me."
When the man with the smiling face came up to her, Ina asked him where her dada was, but he didn't answer.  Instead, he put a finger to his lips, then took hold of her hand and led her out of the room where they were eating.  Ina asked him who he was and where he was taking her and the man stopped to reply.
"I'm a doctor", he said.  "If you come with me, I'll give you a lollipop.  You mustn't be afraid, little one."
And he continued to lead Ina down the corridor and at the bottom of it, he opened the door on the right.
*
Milch und Kuchen
At bedtime, Antje's father is himself again.  When she's undressed and ready for bed, he's come into her room, carrying a tray again, but this time with a glass of milk and a plate of apple cake on it.  As in the morning, he places the tray at the end of her bed and comes to sit down next to her.
Her hair is loose and long after she's brushed it and she asks her father if he can plait it like her mother does, so it doesn't get tangled while she's asleep.  Her father takes the hairband she passes to him and puts it round his wrist.  As he begins to cross strands of her hair over and over, Antje closes her eyes and smiles.
*
And suddenly, Ina has found she can walk through walls.
She can jump and skip again.  She can leave this place.  She doesn't know how, but she's in the room and then she's outside, looking back at the buildings in the darkness of evening.  She can whoosh around and she's fairly sure that if she tried, she could even fly!  She's as free as the full moon that hangs in the sky, choosing where it shines.
She thinks about looking for her dada, but the thought makes her sad.  When she pictures him, there's a gap – she can partly see his face still, but somehow it's fading.  She decides it might be best not to look for him, because he might not be on the earth any more.
Ina crosses the road and she sees a pretty house.  She's thinking she might go into the woods to see what the trees look like at night, when she notices the house's upstairs window is slightly open, with a soft, warm light glowing through the crack.  She takes one look back at the building she came from and she can read, but not understand the words cut in metal over the tall gates.  Arbeit macht frei.
When she jumps up in to the room, Ina sees a little girl, about her age sitting in bed, with a man in a uniform sitting next to her.  The uniform looks uncomfortable and the man has undone his top, two buttons.  The man and the little girl don't seem able to see her, but as Ina perches on the end of the bed, they both stop talking for a minute and look round the room.  The little girl shivers as though she's cold.  On the bed by Ina, there is a tray with an empty glass on it and half a slice of apple cake, but she doesn't feel hungry at all.
The little girl asks the man for a nursery rhyme and he rolls his eyes and begins.
Hoppe hoppe Reiter
Wenn er fallt, dann schriet er,
fallt er in den Teich
find't ihn keiner gleich
"Now in English.  Do it in English", the little girl says.  And so the man begins again.
Bumpety bump rider
if he falls, then he cries out,
should he fall into the pond, no one will find him soon
Ina doesn't understand the words, but she likes their funny sound.  The little girl has asked for a fairy tale and the man yawns and tells her there's only time for one before sleep.
And as Ina and the little girl snuggle down and get comfortable, ready to listen to the story, Ina supposes any dada must be better than no dada at all.
*