Reciprocal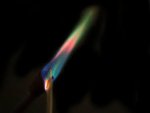 Thu, 27 Dec 2018
Devil stone
The devil always lets me down.
He's so damned unreliable,
His Ouija board no-show -
You moved the glass
No I didn't
Yes you did.
Three turns round the devil stone
In the churchyard where my grandparents slept.
Then look into worn stone centre
To see his face,
Or to see nothing at all, as it happened -
Maybe I didn't look hard enough.
The devil always spots a comfy chair
And a willing heart,
Striding in through a door ajar.
Shameless; bold as brass.
In the bathroom mirror,
My devil is shaving his whiskers.
Snorting down his nose, gargling,
Leaving the soap-scum when the water drains.
*
A circle of salt
We walked through fields,
Making tracks in cold earth,
Or was it summer warm?
Were there cornflowers?
Yes, I'm sure there were
Or residual grass-blades,
Silver-frosted, blue with cold.
The house was misshapen,
Falling in on itself.
Why would we go in/
Why wouldn't we? 
Danger was for other people –
We ruled the village, we ruled the world. 
In the kitchen, the wallpaper was purple-violet-yellow,
On the table, the salt-cellar was full.
My devil comes to me at night,
Unlooked for, unwelcome;
Pushy bastard.
And the circle is meant to be safe,
But my devil pours salt on his potatoes.
It holds no fear for him -
Circles of salt are for amateurs.
I know that I left/
He knows what he took.
And the circle is meant to be safe.
*
Lucifer
He's come back again, he always does.
A smell of sulphur and burnt wood,
A drum roll and ta-dah! moment.
The match on the floor –
so insignificant, so deadly.
Matches terrify me, repulse me beyond reason.
My children think it's funny,
Think it's worrying, my reaction.
I explode into burning anger –
The bright, transitory colours of ire.
That's the thing about anger,
It's easier than fear.
And I read about the Krampus,
Warm and snug in his Tyrolean mountains,
Cuddly, silly demon.
And I stroke a cat, feeling the fur,
Ignoring its psychopath bones.
And I feign comfort,
When terror's the thing.
My devil lives in my childhood,
And I talk cartwheels and confidences
Under mill bridges,
Though I never look at photographs.
Everything is give or take.
Outside, the wind is howling.
*