Shaping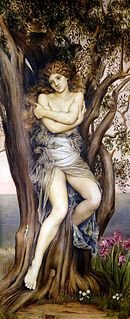 Tue, 05 Jul 2016
The oak trees in the park bend in the wind.  The dryads peekaboo peer from behind the tree trunks.  Not everyone sees the dryads of course, but that doesn't mean they're not there.
*
Mr. Erato
Mr. Erato sits on the park bench.  Its cold metal jags on the back of his legs and seat, but still it's a sunny morning.  He's got a busy day ahead.  Two nose jobs, a face lift later.  Towards the end of the day, the widening of a mouth.
The days since his mother's funeral have been strange, empty, heightened ones.  Sounds have been sharper and colours brighter.  He's been aware of every little sign of life that the world gives off.
He'd had a call from one of his mother's carers a week or so before she died, letting him know about a phone conversation she'd just had with her.  "There's no-one called, Mrs. Erato living here", his mother had said. 
Thinking about it now, Mr. Erato is sure it wasn't the fog of dementia that had caused her response, but knowledge.  She knew that she no longer lived there, or anywhere else.  The carer had ended the conversation by asking him if his mother was still a vegetarian.  She wasn't a vegetarian.  She'd never been a vegetarian.
Mr. Erato looks over at the woman sitting on the bench next to his.  She's very still; very young.  It occurs to him for no especial reason that no-one knows anyone until they have actual contact in the physical world.  And for Mr.  Erato in particular, it's his knife on flesh that enables him to truly understand someone.  Who they are under the skin.  Their capacity for pain and healing. 
But God, he misses his mother.  For a few seconds, he's drowning in grief's black water, breathing hard against its tide.  He thinks of her wisdom and of her love for him.  Of the solidity of her shape and the outline of that vanished shape in the air, flaring still like a burn on a retina.
She'd painted him a kite once – a Chinese dragon in purples and reds.  Little pots of oil paint had leaked on to the newspaper covering the table where she'd been working and he'd tried to catch the drips on his fingers.  His mother had chastised him in the sharp way she sometimes did and he remembers still the feeling of complete aloneness he had in that moment.
Later, that same evening, she'd told him stories about dryads in oak trees and meliai in ash trees.  He'd listened, spellbound at her words.  He thinks in retrospect, the stories were a kind of apology.
As Mr. Erato shapes flesh and bone, so he was shaped. He wonders whether what he does is ethical.  Righteous even?  Then he looks at the young woman again and notices how beautiful her mouth is.
*
In the park, the dryads flit between light and shadow.  They're in the trees and of the trees.  Green wood, brown wood.  When a tree dies, so does the dryad. 
*
Phoebe
On the park bench, Phoebe sits with her legs crossed, tracing round her lips with her fingers.  She thinks she has the small, mean mouth of her mother and that's why she's booked in to have the work done.  Exorcising her with each cut of the scalpel. 
Her mother's meanness runs like a deep, brackish water through Phoebe – and you can't cut water.  On its current, the water carries memories of perfectly shaped bushes in gardens and imperfect daughters.  Of judgments and snide asides.
In the park on this sunny morning, Phoebe is thinking about whether you can ever really alter who you are.  Does getting rid of your mother's mouth, or your father's weak chin conceal the way they shaped you?  The realist in Phoebe already knows the answer to her question.  Inside, her kidneys have the same idiosyncratic shape.  Her womb tilts in the way her mother's does.  Her heart beats in the same, angular rib cage.
But her shaping is imperfect to Phoebe.  She wants to be re-shaped.  Cut and stitched so she can forget.  Unmade to be made again.
Phoebe looks over at the man sitting on the bench next to hers.  He's serious looking, caught up in his own thoughts and seemingly unconcerned about what's around him.  She notices his hands and observes how steady and rather beautiful they are.  She imagines those hands on her mouth, cutting its edges to make it more generous.  Reshaping it. 
She imagines the blood coming out of her.  Not the dark, secret blood of menstruation, but honest blood.  The blood of transformation.
In Phoebe's far view, TV aerials gleam in the sunshine and she wonders which direction their arrows are pointing in, or at what.  She traces their line back and sees their arrow heads stop at the park's oak trees.  Momentarily, she feels the old judgement of the trees and she considers whether if they were cut, would they bleed?
*
The oak trees in the park hold memories in their wood.  Their rings are jagged with the weird growth of bad summers and the knife of harsh winters.  Beetle infestations scar their roots and sometimes, it makes the dryads cry. The soft, silent tears of the dryads in the wood.
*