Snowflake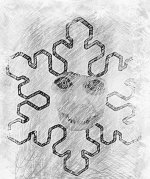 Wed, 27 Dec 2017
"Now you're trying to tell me you're not a ghost" – Heaven Upside Down, Marilyn Manson
*
Trigger Warning 1
"When it snows next, mummy, can we dissect a snowflake?"  Rupert's mother looked at him and smiled. "Darling, you know that will be very hard to do", she said, pouring their hot chocolate into matching mugs, "But for you, we'll try.  You know we will."
Later that evening, Rupert was wrapped up against the chill air and ready to walk back to his halls of residence.  His mother had done her best to convince him to live at home while studying for his degree in applied golf management, but Rupert had laid the law down. 
"Mummy, there's a time in every boy's life where one has to grow up and this is my time.  Standing on my own two feet, spreading my wings and all that."  Besides, his mother only lived half a mile away – a hugely convenient distance for the dropping off of dirty washing and the picking up of food and when necessary, money.
"Mate", his friend Justin was wont to say. "At twenty four, aren't you still a tad over-reliant on the old girl?  A little, you know, using of her?"  But Rupert would have none of it. "You don't get it, Jus.  You just don't get it, because the truth is, she likes it.  It gives her a sense of purpose still."
Rupert dug his hands deep into his overcoat pocket, cross with himself for leaving his gloves on the telephone table at his mother's house.  Her fault really too because she'd insisted on kissing him three times – mwah, mwah, mwah – as he stepped out the front door.  The old ritual still intact.  "Don't forget, Rupie.  Whatever happens in this world, you're one of a kind.  Mummy's little boy, always and utterly, completely unique!"
The tree-lined road looked long under the street-lights and the autumn air had exacerbated his asthma.  All in all, Rupert was feeling pretty, damned irritated.  He'd gone round to his mother's in the first place to pick up the Nespresso pods he'd explicitly asked her to get from Selfridges.  And after much blathering and smoke and mirrors denying, she'd finally come clean and admitted she'd forgotten to buy them!  OK, so not exactly an end of the world scenario like the time she'd forgotten to add the fabric conditioner to his duvet wash; but still problem enough to make him question how fucking special she really felt he was.
*
In Aldi's doorway, Jimmy settled down for the night.  It wasn't that late as he could see the afterglow of the sun across the street in the gap between the White Lion and Greggs, but he knew if he didn't get himself hunkered down in his sleeping bag now, the cold would spread through his bones and take up fatal residence in all his vital organs.
Jimmy had been on the streets for five months now and he reckoned he'd aged at least ten years in that time.  Every so often, he caught sight of himself in a shop window or the wing mirror of a car and he barely recognised himself.  Thirty going on fifty.  Haunted face and hanging flesh – one of the walking dead that reflected the true soul of any town or city these days.
He'd got his sleeping bag from one of the charity guys who came and checked on him and the others every day or so.  It was a burgundy colour, ripped inside, but Jimmy had turned this to his advantage by packing the ripped pockets where the stuffing had come out with newspapers and pizza boxes.
Today hadn't been such a bad day – he'd not been moved on, he'd been given a magazine and a cup of tea by passers-by and there was still a trickle of warm air coming from Aldi's door where the heating hadn't switched to night mode yet.  On balance, not bad at all.  He wished, though, his cough wasn't quite so persistent.  Not that he could do a whole lot about it in his position, but it tore through his chest.  Tight and uncompromising as a bullet.
Around Jimmy's head, the ghosts floated; waiting.  Well, what else were they expected to do?  When you're dead, there's no complaining you don't have the time.  In Jimmy, they recognised their past selves; or in him a future them.  The ghosts rubbed their hands lasciviously, licked their lips.  When you're made of void only, you're always looking for ways of filling absence.  They knew in any case it would only be a matter of weeks, maybe days if this cold snap continued.  In his sleeping bag, Jimmy put his hands between his legs for residual warmth and shivered when he closed his eyes.
*
Trigger Warning 2
Rupert was about to cross the road when he saw the rough sleeper in the doorway of Aldi.  He knew it probably wasn't the nicest thing to think – but he wasn't going to lie – and the sight of the guy (if the purple cocoon shape was in fact human), offended him.  You know, in this run up to Christmas, there were people working hard to make the town centre look pretty and seasonal and there was something inconsiderate about people like this guy messing things up.
Actually, when Rupert thought about it, there were a number of things that really offended him.  Things that he shouldn't actually have to think about at all.  Things that he just didn't find…what was the word...relatable?
He'd told his seminar tutor only the other day that the constant displaying of golf balls in her office hurt his sensibilities as they reminded him of when he'd lost the under-sixes egg and spoon race as a child.  He still felt that trauma – in fact, he reckoned he could pinpoint that event as being the root cause of his feelings of low self-esteem and consequent low grades right through his academic career.
When his tutor had smiled (was it a smile or a smirk?), Rupert had reminded her about her responsibilities.  "University is meant to be a safe space for all.  I don't like that you're making me feel marginalised.  In fact, I'd like you to apologise."
"For what?" his tutor had said.  "I'm sorry if you feel hurt, but I am not apologising for displaying golf balls on a bloody, golf management degree course!"
Rupert had got up and shut the door with a polite, but peevish click.  He'd gone home to Mummy who had agreed with him that it didn't sound like his tutor was taking him seriously enough.  Had told him again what a unique, human being he really was.
*
When Jimmy woke up, he had no idea how long he'd been asleep.  All he knew was the Aldi warm air had dried up and the snot running from both nostrils had frozen in long, sharp strands.  He rubbed his face, breaking them off and considered putting them in his mouth as he felt so suddenly, urgently thirsty.  His cough saved him, or at least diverted him from his intended course of action and he sat up to ease the pain in his chest.
As the coughing eased, Jimmy looked round him.  There was hardly anyone around and in many ways, this was how he liked the world the best.  No interfering people, no judgers, no well-meaning priers.  Just him and the cold pavement beneath his feet, problems to solve and the shit course of life that had brought him to this point in the first place. 
Jimmy had not one ounce of pity for himself, not one.  He'd made his decision to leave as there was no other way.  He'd swallow the consequences of having to quit what he could no longer bear.  Yes, he often felt bad for the younger kids out here, but he was never going to count himself a victim.  He wasn't dignified, nor honourable, no Gentleman of the Road.  But he knew, people had their limits and when he'd reached his, he'd got the hell out.  Not looked back.
When he began coughing again, the ghosts who had been huddling together in the corners of the doorway, rallied.  They arched up in the air, animated with expectation.  If ghosts had the inclination or indeed the physiognomy to smile, in this moment they would have done.  Instead, out of the ruined holes of their mouths, icicle tongues lolled and drooled.
*
Trigger Warning 3
The more Rupert thought about it, the more he felt it was actually his duty - no his right - to let the homeless guy know what he thought of him.  He'd picked his way through the chip wrappers and chicken boxes to kneel down by the guy's sleeping bag, being careful not to touch him or experience the close foulness of his breath.
"You know, mate.  I honestly think you could have tried a little harder, you know?  Tried to have got on with your fam a bit better?  Been a bit more aspirational?  Stopped feeling sorry for yourself?  There's no need for all…all this."
From the depths of the doorway, Rupert heard one word and it wasn't an appropriate one at all.  It rang in his sensitive ears.  "Twat".
Now that wasn't right!  Actually it was quite offensive and Rupert was consequently deeply offended.  Cultural misappropriation of a northern word.  Snidey, southern vowels round northern ire.  In his huffiness, Rupert stood up and stepped back into the road.
As the van hit him, Rupert learnt the hardest of lessons.  Ghosts are lazy and will shift allegiances at the very last minute for the lure of easy pickings.  But worse than that – Rupert wasn't even unique in death. The ghosts danced around him and he was immersed in their bland, white blanket.  A snowflake only amongst a million other snowflakes.
*
In the make-shift, pop-up kitchen, Jimmy was sitting at one of the trestle tables.  God, he felt sorry for the guy who had been hit by the van, but there hadn't been anything he could have done to save him. 
All there was, was this moment – the rich burn of the soup and the spicy fug of the chicory coffee.  What there wasn't for now was fear or worry - for this night at least.  Even his cough had been smoothed over for a little while and the feeling had started to come back to his fingers.
Putting his spoon down, Jimmy stretched and looked through the steamy window at that most ordinary of miracles - snow beginning to fall in the vastness of a winter sky.
*