Longest Day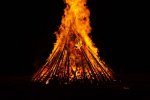 Sat, 20 Jun 2020
2 likes
Light the fires,
spread the ashes -
our faces will illuminate with truths,
it has rained
in leaden storms that have amassed
at the parting of my hair, and yet
softening; tendrils of love
are unfurling.
All the obstacles we have overcome;
we will leap the flames,
but it will be no proof against witches.
The oak leaf, the green wood,
the resilience of the holly - 
a trading of goddesses,
the motion of a star;
the sun is fickle and
always changing its mind.
Now a reversal,
the triumph of bright,
the rise of darkness
ebbs and flows.
It can feel like a kairotic moment,
but dissipates
in the way that words are slippery -
these are the variables of hope. 
Image from pixabay. Painting also on Twitter from here: 
https://commons.m.wikimedia.org/wiki/File:Karl_Nordström_Midsummer_Bonfires_in_Stormy_Weather_Thielska_301.tif