Stag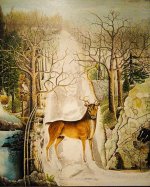 Wed, 20 Jan 2021
Emerged from woodland,
on heathered hagg, a red stag 
discards his solitude, bears
his banner of vestigial enchantment,
to meet the skirmishes of Autumn.
A ruminant of goosegrass 
and dogwood, of the understory,
he entreats the wind and
the wind answers.
Each beast  is thickened, moss tined;
a prelude to branches of oak
that clatter, bone upon bone, 
for the gamble of an aged hart,
lambent in the lowering light. 
 
But I have no love 
for war or glory when the present
so often steals from the past,
until history, itself, seems empty 
in the self-defeat of repetition.
There are bridges built with myth
between Cernunnos and 
the shapeshifting of St Patrick
in flight - the quarry of an older tale.
Here, too, an earthly Kármán line
is drawn between now and then,
tame and wild, yet still, every man
may posture and bellow,
as I nurse my anguishes
as if they were battle scars,
as if they were the only savage justice
of my yesterdays, where
any comprehension of my being
resides, how I, too, beseech the wind
and the wind abides. 
 
Painting is from here: https://commons.m.wikimedia.org/wiki/File:Stag_at_Echo_Rock_-_SAAM_-_DSC00823.JPG Also on Twitter: https://commons.m.wikimedia.org/wiki/File:Eugen.jpg and https://commons.m.wikimedia.org/wiki/File:Colonel_Smith_Grasping_the_Hind_Legs_of_a_Stag.jpg
And if it's helpful, the Kármán line is an imaginary boundary between the atmosphere of earth and space.