Weather warning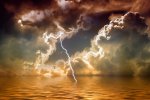 Sat, 29 Jun 2019
Last week it began raining
from my fingertips - 
leading to flood warnings
in the west.
Yesterday lightening
escaped from my ears
causing mystery
thundersnow and hail
to be reported
on the six o'clock news.
Today in the midst
of my oppression,
the sun fell from the sky:
just dropped like a stone
as if it had slipped and
lost its bearings.
We are now in a new
night of being - 
of dark weather. 
Image from pixabay.