Turpitudity (Part 2)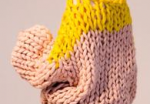 Tue, 11 Jun 2019
There we go. Local was dynamite the way to go. I see everything I remove and that I leave behind, away from me and discarded. Clear and made of clarity I am now. All like taking bleach to bathroom scum. Carving through the shite that's built-up, leaving nothing and yet, at the same time, leaving transparency, leaving greater appreciation, like that breath you take every so often that makes you stop and say aloud, 'Oh that's good stuff.' You will learn of this all and more in time I don't doubt it.
*
Same day as yesterday, more or less. And tomorrow will be the same again, fucking bleak. Just battling not being arsed with needing to be arsed.
"Nnngyahhh," the new man said - or, rather, sighed/yawned/gurgled - as he stretched out his limbs. His ankles and wrists cracked, and when he knelt to press all of his weight on one knee and then the other, searching around for the sweet spot, they returned the satisfyi-CRUNK too.
Uniform uniform uniform. It was over the back of the beanbag chair, no, just over the beanbag chair in the corner of his studio. Once dressed he put on his go-faster trainers - for one could never be too sure what dangers one might find out in the bleak repetitiveness - and poured the just 'pinged' microwaveable custard over his Weetabix. He grew several sizes for this, and filled his shirt, while his fleece was pulled taught across his broadening back, making clear the lettering impressed upon it.
In the mirror over the sink to one side of the room, he saw staring back at him a figure running his tongue in, through, and out of a gap between its left upper canine and incisor. He recalled the years of orthodontic progress, and how they had blurred into sloppiness as he released stress during the night, grinding his way through retainer after retainer during his sleep.
Expenses must be shed, the man and the figure thought simultaneously, although he regretted the turn away from caring for his personal appearance. If he had found some other method of catharsis he wouldn't have chewed through each of those retainers. If he hadn't chewed through each of those retainers, his teeth would have stayed hetero, rather than moving back to their near vampiric deformity, and that poor girl's labia minora wouldn't have got caught up in the gap between those teeth last night.
He finished-up caressing the gap with his tongue, and spat into the sink. The taste lingered still, arousing some but sprinkled with regret. Hints of iron. She lay there on the bed, snoring lightly, making better use of her throat than he had been exposed to the night before. The man laughed through his nose, she was so pale and sallow that anyone would swear she had died of her injuries. Ipon teasing her out from in-between his teeth, a small cut had opened. Less of a cut, more of a nick. She would have had worse accidents shaving if she bothered to. It had bled and bled. Then it had stopped bleeding. Then it had bled some more. Her blood was more like sand, not in its feel of course, but hours later he and her had found blood stains on parts of each their bodies that they could have swrn had been nowhere near the scene of the crime. 
To see her now, wrapped up in sheets speckled with red, she looked a murder victim. She had not been killed. She was not dead. The man was 85% certain of that. 
Before leaving, he wrote her a note explaining his swift departure - 'I had fallen out of love orthodontia, please don't hold it against me. So that each of us might hold the other against us again, I will rekindle my appreciation of dental - and overall - hygiene, if you could do your bit for king and cunt and clear away some of that heather down there so I can see what I'm getting myself into. I realise now that this would have been better discussed in person, but I struggle to hide my disgust in person. Gone to work, hope to see you again (the previous may appear unnecessarily long-winded, but I couldn't start again since I have no more paper).' He breathed on it and placed it gently over her face before leaving. He was unsure whether he had got the tone and sentiment of his letter right.