"The Trouble with Magical Beings" Chapter 9 (A Fantasy)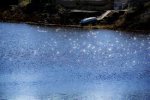 Sun, 13 Oct 2019
"Grab them," Granite ordered his robot army to capture the invaders and Daniel, Naia and Jenny had no time to run before they were firmly held in the metal grips of extremely large robots.
"Why did you follow my son home?" Granite asked the captured boy human.
Daniel shook his head, "No, we didn't follow Shale home, we-"
Granit cut off his words, "How do you know his name?" 
"Shale told us," Naia spoke up.
"You're lying," Granite narrowed his laser eyes on her.
"No, it's true!" Jenny and Naia both answered at the same time. 
"Silence them," Granite commanded.
Big metal hands were immediately placed over their mouths.
"Grab the animals too and we'll take them to the Jungle Maze!" Granite ordered turning away from the squirming children who were still vainly trying to tell him what had happened.
The friendly ponies were captured quickly by ropes the robots tossed over their heads.
The stallion however, eyed the rope in one robot's hands and shook its head warningly but the robot didn't heed the warning and tossed the rope towards the stallion.
The Stallion reared up and kicked the rope. It miraculously went over the robot's head and the horse quickly snatched up the end of the rope in his teeth and took off flying, with the lassoed robot bouncing along the ground.
"Let me go!" the robot yelled angrily to the flying stallion.
The Stallion complied with a nod dropping the rope and the robot skidded along the ground landing in a painful crunch next to Granite.
Granite shook his head in disappointment at him.
"That stallion is crazy," the robot said in defense.
"This lion is no better," said the robot who was trying to capture Boots.
Boots bared his teeth at the nervous robot and said, "You'd better back off, I can bite metal as well as anything else you put in front of me."
"Leave them, they'll follow their humans anyway," Granite told his metal army.
The children were then unceremoniously picked up and carried away by their large robot captors and Granite was correct, the lion and stallion did follow them cautiously from above.
They came to an intricately carved iron gate in a very large stone wall and stopped. One of the robots opened the gate and Daniel, Jenny, Naia and the two ponies were pushed into the thick foliage beyond and quickly locked in.
Granite laughed and said, "If you can find your way out of that maze of a jungle, I might consider letting you go."
Then all the robots laughed and taunted them to try and find the way out.
Granite assigned four large robots to stand in front of the gate, "Don't leave this gate unguarded, do you understand?"
"We understand," The four robots said in unison.
"Good," Granit nodded and ordered the rest of the robots back to the castle.
Daniel stared back at the four robot guards watching them.
"I guess we should start walking to find the way out," he said without enthusiasm.
"What about lion? I'm not going without lion!" Jenny sniffled.
"Don't worry, the lion and the stallion can both fly over the gate to us," Naia said to Jenny but as she said it a cage suddenly appeared from the top of the wall and over the trees. "Or maybe not," Naia sighed not sure why the magic was closing them in.
"Do you think the entire jungle is like that? "Daniel asked looking up too.
Naia nodded, "I'm sure it is, it stops us from flying out of here. I'd bet the magic must have added it just to complicate things."
Daniel nodded as he remembered rule number seven, Magic is never simple, and Magic complicates everything.
"Naia, can you try to let my lion and the stallion in with your magic?" Jenny begged sweetly.
"I'll try but I don't know if it will work," she said and closed her eyes making the wish.
As usual her wish was not completely what she'd asked for but Jenny was happy with the results anyway.
"It worked," Jenny cried out excitedly pointing to the sky.
Sure enough, flying in through the small openings of the caged enclosure were a tiny lion and a tiny stallion.
"Thank you, Naia!" Jenny squealed, thrilled to see the lion no matter what size he'd become. The lion landed on her shoulder and was happy to be back with her.  
Jenny took Boots from her shoulder and placed him on the ground, "Do you think you can wish him full size?" 
Naia made the wish and the lion grew bigger, but only to the size of a house cat.
"I think that's the best I can do for him," Naia told Jenny.
"That's okay, Boots doesn't mind," Jenny picked up her lion and he seemed fine with his new proportions.
"What about me?" squeaked the tiny, mouse size stallion stomping its hooves angrily but with no real effect," I'd like to be bigger too, if you wouldn't mind," he said indignantly to Naia.
"Can you try?" Daniel asked Naia on behalf of the tiny horse.
Naia wished but again with her condensed magic the stallion grew only to the size of a very small pony.
"This isn't funny," the stallion said hearing the lion laughing at him.
"I'm sorry," Naia said sincerely to the stallion.
The stallion harrumphed and said, 'It's fine, but let's get this adventure over with so I can get back to normal and you can all go home," then he jumped into the air but to his further disappointment found he could only fly a few inches off the ground.
"This is ridiculous," the stallion muttered before flying under the think foliage.
 "Well come on, don't dawdle, we have to find the way out of here."  The others heard him say as he disappeared into the jungle.
 "Wait, we all need to stick together," Daniel called to the stallion but the stallion didn't reply.
"We'd better follow him," Daniel said but he was afraid of what was behind those thick bushes.
"Don't worry Danny, Boots can help us. He's king of the jungle you know," Jenny said to her brother with confidence.
 "And I can talk to animals too," Boots said proudly, puffing out his chest.
"See, we'll be okay," Naia said to Daniel, but she didn't sound very confident either because she had her own worries about what lie in that jungle.
"Okay, let's go," Daniel said determined to be brave.
They took a step closer and looked up. The trees above them swayed and their branches beckoned them closer with twiggy fingers daring them to enter.
Daniel refused to look at those trees as he said, "Follow me," and he pushed away the first few vines.
Boots flew next to Daniel and swatted away the thick leaves and branches to help him navigate a path.
Jenny and Naia followed close behind Daniel walking in a single file, and the ponies flew ever so slowly behind them all.
"Is it getting dark?" Jenny asked, she didn't like the dark and this place was scary enough already.
Daniel and Naia looked up at the quickly darkening sky.
Only moments before, the sky had been bright with daylight now it had just turned ominously dark.
"I don't like this," Daniel said holding firmly onto Jenny's hand.
"I want to go home," Jenny sniffled as she held Naia's hand even tighter.
 "Don't be afraid," Naia calmed her, "as long as we stay together we're safe." She hoped.
 "Look, there's a clearing through those trees," Daniel pointed out and they moved as a group quickly towards it.
They stepped from the dense trees into a circular clearing. There was a full moon in the dark sky and it shone eerily down on the open grassland.
"It took you long enough," the stallion said standing by a stream that meandered through the jungle's floor.
The ponies immediately flew over to the edge of that stream and began to drink the cool water. Daniel, Jenny and Naia walked to the stream too.
"Are these for us?" Jenny asked spying three brightly polished, silver cups lying on the grass next to the stream.
"I think so," Naia smiled picking one up.
Daniel and Jenny picked up their cups and filled them with water from the stream.
The water was crisp, cool and refreshing. It was the best tasting water any of them had ever had.
They all took a moment to decide which way to go and once they decided they began to walk deeper into the jungle.
The jungle was quiet, almost too quiet and the trees grew taller and taller as they walked on.
Naia knew these trees were ancient sentinels of this land, so she watched them cautiously as she knew they watched her.
These were magnificent trees in height and width and their branches swayed overhead dipping down without wind and watching the small band of misfits that had entered their sacred grounds.
"These trees are so big," Jenny craned her neck to look all the way up at them.
Daniel looked up too and his eyes widened at the heights of the towering trees but seeing the amazingly tall trees brought him a happy memory and he smiled.
"Dad told me about these gigantic redwood trees he'd seen in California." Daniel told his sister.
"Do you think they were as big as these trees?" Jenny asked him with childhood wonder.
"I don't know but he was going to takes us there when you were old enough to remember them, but that was before…," Daniel stopped to wiped at his eyes not wanting anyone to see the tears, "Anyway," he continued, "I don't know if they were as big but we need to keep walking if we're going to get out of here."
"But it's getting so dark, I can hardly see in front of us," Jenny complained.
It was true; the moonlight was mostly hidden by the tree cover." 
The lion turned and said," You can hold onto me, I can lead us through.  I have excellent night vision."
"You're not the only animal here with good night vision, may I remind you. I happen to have excellent vision in the dark," said the stallion huffily.
The lion conceded graciously, "My apologies stallion, and if you'd like to lead, then we'll follow you."
The stallion puffed up his chest and raised his head, "I'd like that very much."
The stallion walked ahead and as he walked he suddenly grew larger, he grew to his normal size and so did the lion.
"What happened?" Daniel asked looking at Naia. "Did you wish them to grow again?"
"No, this magic wasn't from me," Naia said looking up at the tallest tree and seeing the kindness it was projecting their way.
"I think it was your memory of your dad that made you a friend here. They heard your kindness and gave our animals back their dignified size and for us, they've granted a pass."
When the branches on the tallest tree nodded slightly at her words Daniel smiled his thanks to it and made a promise.
"If I get through this adventure, when I grow up I'll go to that place where the redwoods are and thank them too."
The trees swayed slightly and parted at their tops to let the full moon light the path that they needed to follow.
"Thank you," Daniel smiled and they all followed the moonlit path past the tall trees and back into the thick vines and bushes of the jungle.
Jenny sat on her fully grown lion's back clinging tightly to him.
Naia was on her green pony and Daniel was on the little yellow pony that had been Jenny's at the start of the adventure because the stallion was very happy to be rider less as he led them through the dense forest.
"What's that?" Daniel asked as he spied two yellow lights coming from between two trees.
"I'm not sure," Naia said but we'd better go slowly until we know what it is.
Jenny closed her eyes not wanting to know.
When they were nearly in front of the strange light a familiar voice called out to them from the darkness.
"There you all are, I'm so glad I found you!"
Shale ran out from between the two trees, his yellow eyes flashing happily.
"Shale? What are you doing here?" Daniel was surprised to see the little robot again.
"I heard my dad tell my mom he'd found intruders who'd tried to kidnap me and he took them to the jungle. I knew he was talking about all of you, so I had to come and help you. It's my turn to help you find your way home."
"Do you know the way out of here?" Daniel asked hopefully.
Shale shook his head, "Oh no, I've never been in here, it's forbidden."
"So, you're lost too." Daniel informed him kindly.
Shale thought about it and nodded, "I guess I am."
The stallion turned to the little robot and sighed with annoyance, "Then you may as well hop on my back because we need to get moving."
"I can ride the big horse?" Shale's eyes beamed delightedly at the thought.
Daniel nodded, "I guess you're in the lead now too."
"Wow, this is so much fun, I'm glad I'm lost with you," Shale said giving them all a big metal grin as he climbed on the stallion's back.