Odyssey of a Prodigal Stepson Part Nineteen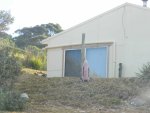 Fri, 02 Apr 2021
Authors Note - A reposting of what I inadvertingly deleted (oops) 
Recap: After a merciless reprimanded by Delilah; Jamie was let into the farmhouse to await the return of Pedro; whom had gone off somewhere for snacks for the long road trip they were going to embark upon. Whilst there, he was banished to a guestroom for being cheeky to Delilah. Sneakers entered the guest room sometime after and gave him some lighter clothing to wear throughout the trip.
They stop off at a secluded rest area, where Sneakers and Jamie strengthen their bond; whilst Pedro and Delilah argue and end up getting too drunk to drive, so Sneakers take over a the wheel. Just as everything seems to be going well; red and blue lights flash behind them… 
---
Dazzling headlights flashed and a deep horn sounded, closely followed by the police car's siren. Sneakers appeared calm, wearing, what Travis often referred to as a Poker Face. His responses seemed well rehearsed; giving Jamie the impression that this particular scenario had been anticipated.
 "Everyone stay calm and let me do the talking." said Sneakers steering the car to the side of the road. He took his left hand off the steering wheel and reached over to the glovebox. Jamie gasped feared there might be a pistol or some sort of weapon inside. Seconds later, the police car over took them and sped off into the distance.
"That was a close call," slurred Delilah.  
"You'd best put this on, buddy," said Sneakers, retrieving a rubber Halloween mask from within the glovebox and placing it down on Jamie's lap. "Your face is probably still on their missing person's file and we'd probably all…that's Pedro, Delilah and me, get arrested at gun point."
"And that's a bad thing because?" taunted Jamie.
"Don't be a smart-ass or you'll get a smack across the ears!" threatened Delilah.  
 "If you so much as lay one hand on Jamie, you'll be out of this car; walking the rest of the way," said Sneakers, turning in his seat and staring daggers at her.
She scowled for a brief time then, folded her arms close to her chest, like a pouting child. Her eyes then shifted to Pedro, whom was still asleep; much to Jamie's relief. He did not want to see Sneakers get into some sort of altercation. Another siren sounded from behind, and moments later, an ambulance sped past and disappeared in the same direction of the Police car.
"I'll wear it under two conditions. One, you don't chastise me for the rest of the day, and three; I get to eat a pizza for dinner tonight…from Hell's pizza if possible."
"The pizza sounds reasonable. As for a reprimand free day; you're still going to have to behave yourself. There'll still be timeouts for you to contend with. "
Jamie stretched the elastic cord and donned the mask. He gave a demonic cackle then folded his arms and watched the scenery through the grimy windscreen. His mind wandered to the fun he used to have, Trick-or-Treating with his stepsiblings. Alice Burgess would always spoil them with big bags of lollies, whilst Mrs Barr, several doors refused to take part in such "Tomfoolery," as she called it.
His daydreams terminated as they rounded a corner and started down a long straight segment of road. On the left hand shoulder was a small accident warning sign. Approximately 250 meters from this was a young policeman standing in the middle of the road wearing a florescent yellow jacket, on traffic management duties. Further still, was a collection of various types of emergency vehicles, lighting up the area with an array of flashing lights.
"Let's just take this one step at a time." said Sneakers, clicking a button to on the driver's door. Jamie's window rose all the way to the top. "As far as they know we're just another family out for a drive,"   
The car slowed and drew closer toward the policeman. Jamie inched his left hand toward the passenger door and trying the latch but it failed to open; secured, he assumed by some sort of child proof locking system. He tried the window opener but that too was inoperative.
Strewn debris lay on the road leading toward the crumpled remains of two cars. It appeared, to Jamie, that one car had stopped short and the other slammed into it. Both vehicles were on the side of the road and most of their occupants were out and gathered beside a white wooden railing fence.
"It's them," said Delilah in a sullen tone. "The other three that was with us in the van,"
 "We can't afford to stop," said Delilah." Not with Jamie in the car,"
Jamie inched his left hand toward the passenger door and tried the latch, but it failed to open. He then tried the window opener but that too was inoperative.  Cursing under his breath, he undid his seatbelt, leaned over and slammed his open palm against the steering wheel.  
Delilah quickly grabbed Jamie from behind, and settled him back into his seat, but it was too late; the horn blast had already attracted unwanted attention. One of the policemen smiled and waved back at Jamie; mistaking his cry for help, as the impish antics of a mischievous child in a mask.
"Don't ever do that again!" scolded Sneakers. "You could have caused us to have an accident and someone could have got seriously injured."
"I'm sorry, Sneakers" offered Jamie. 
"Keep your little butt parked on the seat at all times, whilst the car is in motion, and don't touch any of the controls. Do make myself clear?"
"Crystal clear,"  
"Good, now put your seatbelt back on and behave yourself!" 
Jamie wiped his misty eyes on the back of his hand before refastening the belt. He folded his arms and assumed a well-practiced pout, as the car negotiated his way around the chaotic scene, then picked up speed again. Pink Floyd's Meddle CD continued playing through for the second time.
**********
The road ahead wound for the next two and a half kilometres then started taking on a less arduous motif with long straight stretches, passing farmland, and lush hillsides dotted by sheep. Every so often Jamie would spot a bounding rabbit or circling hawk up in the near cloudless azure sky. 
Sneakers slowed, and took a sharp right through an open gate. It travelled along a narrow gravel drive with large bushes either side, before arriving at a sizeable grassed area. He killed the engine and drew a heavy sigh.
"Made it, in one piece," commented Pedro; now awake, though still a bit groggy from the alcohol.  "You did well, Sneakers…right, everyone out."
Jamie opened the door and stepped out. He was joined a short time later by Sneakers and Delilah. Pedro was slower to exit the car, closely followed by Major. They collected various items from the boot, including Jamie's backpack, and headed off westwards; following an even narrower track, leading to a dilapidated wooden hut with a red corrugated iron roof.
The hut's interior was spacious, with minimalistic décor and a lingering dank musty odour. Three wooden crates sat beside a stainless steel fireplace. Stacked newspapers sat in one, kindling and pinecones in the other and what looked to be recently cut firewood in the third. There was also a series of pokers ranging in various lengths.
"Well, it's been a long drive and Delilah and I are going to have a bit of a lie down," announced Pedro, stretching his arms and yawning.
"Yeah, you look beat," agreed Sneakers, tossing the car keys onto a small table to the left of the door. "Jamie and I will somehow get by without."
"I'll miss you…sir," mumbled Jamie.
 "Yeah right," retorted Pedro. "Behave yourself and do as Delilah, and Sneakers tells you, or you'll have me to answer to."
**********
"We discuss what happened, back at the accident scene," said Sneakers, once Pedro and Delilah had exited through a door, on the far eastern side of the cabin.  "Your horn-blasting could have gotten Pedro and Delilah arrested. I would have been charged with being accessory to your abduction."  
"Sorry Sneakers but you knew sort of risks you were taking; when you agreed to get involved in all this," replied Jamie.  "I was desperate to get back to my family…I still am."
"Be that as it may, you deserve to be punished. You're to clean all the windows of this cabin, and then sweep the floor. Cleaning stuff's in that cupboard, to the left of the fire place."
"What, now?"
"Yes, as soon as possible,"
"Couldn't I unwind a bit first?"  
"You can unwind afterwards."
"That's not fair,"
"Your punishment is not open to discussion, or negotiation; now hurry up, and march yourself over to that cupboard."
"No,"
Jamie slumped down onto a brown two-person settee. He folded his arms defiantly and studied Sneakers slow, materializing scowl. A tense silence ascended, emphasizing the feverish groans and loud whispers, which were now coming from behind the door, which Pedro and Delilah had exited.
"For goodness sakes Jamie, it's just a few simple chores, to atone for your transgression." affirmed Sneakers in an exasperated tone. "The sooner you start the longer you'll have to unwind afterwards."
"What if I don't do them at all?" retorted Jamie.
"Then you'll have to answer to Pedro, for your disobedience."
"He promised not to hit me for the rest of the day…you know; the mask deal?"
"He was asleep at the time that you made that deal, and promised diddly-squat. So, you can do those chores with, or without, a sore little butt. Either way, you're doing them."
"Go screw yourself, Sneakers."
His heart chilled, as Sneakers stormed out the room; occasioning him with a slight window-of-opportunity. He slipped off the settee, and hastened to the front door of the cabin; snatching the car keys from the desk. Outside he ran, and started following the narrow track. Chaotic clamour and urgent pages, demanding his immediate return, sounded from within the cabin.
**********
 Run Jamie run. Be the swift little fox, the one that could not be caught. A loving family awaits your return with warm embraces, and forgiving broken-hearts. Run little fox run.
Jamie made it to the SUV first and pressed a small button on the fob. The doors unlocked, and he then scrambled into the driver's side moments before Delilah arrived. He engaged the central locking device and adjusted the seat, as she gripped and tugged at the door handle without success. 
Jamie fumbled with the keys until they slid into the ignition. He twisted them clockwise. The engine fired, and though deep down he doubted his ability of driving such a vehicle, he had already crossed the point of no return. Failure seemed an incalculable horror.
By now, Pedro and Sneakers had also arrived on the scene. He deafened his ears to their threats, and shifted closer to the edge of the driver's seat; before wrenching the transmission into reverse. The car lurched backwards, as he trod on the accelerator. His captors scattered for their lives. 
He slammed on the brake and grinned impishly. He then moved the transmission into drive, grappled with the wheel and tried his hardest to make a U-turn, but ended up hitting the fence with the front left of the car; causing his first ever fender-bender. Cursing, he reversed slightly, then put it back into Drive.
The car took off down the gravel road for a short time before sideswiping the foliage. Its left wing mirror shattered on impact. Ignoring the collision, he continued on regardless and eventually reached the intersection; where the road gravel met the main highway.
Jamie turned left, and started on, what he hoped to be, his homeward odyssey.
-Continues-