The Autumn of Her Years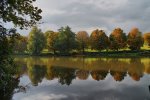 Mon, 12 Feb 2018
1 likes
She was suddenly overcome by a desperate urge to be on her own, away from
the formality, the fuss and above all, the sympathy. She leaned
forward and touched the driver gently on the shoulder and asked him
to stop anywhere that was convenient. She could see his face in the
rear view mirror and the look of concern that had occupied it. He had
clearly never been asked to do this before.
The bible black limousine whispered to a halt by the kerbside and the
driver anxiously left his comfortable domain and rushed around the
car to open her door. She slid across the sumptuous leather seat with
as much dignity as she could muster and stepped graciously out into the
cold November afternoon. With a reassuring touch to the sleeve of his
sombre dark coat she thanked him, told him he could now return to his
base and set off along the pavement with a calm determination. After
some moments of hesitation the limousine crept quietly past her,
taking with it her abandoned 'Order of Service and Eulogy' and forty
five years of misery. A gentle smile crossed her face as she watched
the hearse glide sedately into her future.
She adjusted her scarf against the chill air and set off in the
direction of the park. This was the one place that had always been
her sanctuary, a place where she escaped from the constant source of
distaste in her life. A place where she could recharge on normality
and beauty before she'd had to return to repugnance and repression.
This was the home of mother nature, where all that was good and
meaningful in life could be found. This was the place that had
sustained her faith in beauty and gentleness.
As she entered the park an excitable reception party of multi-coloured
leaves scurried around her feet, ushered her to her favourite seat,
then scampered away to find new friends. She closed her eyes and
began to sense the season. Now in the Autumn of her own years she
would follow the natural rhythms which surrounded her, rhythms
untouchable by ugliness or man.