The Bag Muck Evictions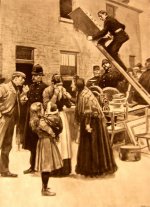 Fri, 04 Jun 2021
When we emerged onto the smoke shrouded platform at Doncaster railway Station, we were astounded to see another hundred or so bobbies milling around in their heavy capes and winter great coats. I recognised one or two of them and knew they must have been summoned from as far away as Leeds and Bradford. A hundred and twenty police officers on a station platform at seven thirty on a bitterly cold January morning must have been a very intimidating sight. The few forlorn passengers waiting for the same train, slowly edged themselves away from us and withdrew behind collars and scarves.
Tommy Dawson sat next to me in the carriage and I could sense the tension in him. We'd joined the constabulary together in 1890 and he was godfather to my young daughter, Maisy. We'd now been friends and colleagues for thirteen years, but as we'd walked from the Guildhall round to the station he'd said very little and I was more than aware of what must be going through his mind. His sister, brother in law and their three children were just one of seven hundred and forty mining families we were being sent to evict from their homes.
We were all aware of the strike that had been running for nearly six months now and to be honest, there wasn't a man amongst us who didn't will it to succeed. The Denaby and Cadeby Colliery Company had long been known for the appalling treatment of its men and the strike had become bitter beyond reason. The miners were only paid for the coal they dug, but could often spend much of the shift removing the ever increasing layers of rock and shale that ran through the seam, known by the men as bag muck. Gradually, the quantities of bag muck had increased and the amount of coal had steadily decreased. The company however, adamantly refused to acknowledge the situation and still only paid the men for the coal extracted.
On Conisbrough station, we were met by even more officers, including several senior ranks on horseback, some of them armed with cutlasses. We marched in military formation the mile or so to Denaby in sombre silence, every one of us wracked with anxiety. Miners were tenacious and as strong as oxen and the thought of evicting seven hundred and forty of them from their homes was daunting. As we neared the village, small groups of people emerged from the chilled gloom and stared at us with gaunt, blank expressions. They knew why we were here, but gave no indication whatsoever of how they would respond. We knew why we were here too, and dreaded what was in store for us further down the road.
News of the court order granting the evictions had clearly already reached its victims and as we neared Cliff View, the first of the rows of company owned cottages, defeated looking families pushing handcarts laden with their meagre possessions passed us. The children, some barefooted, gazed at us with wide eyed innocence as we passed. The adults stared straight ahead, abject and defeated, searching for salvation.
The view down the street was shocking. People were piling their
possessions onto the frozen ground outside their homes, frail wicker chairs supporting mattresses and bedding, tired sideboards piled high with chipped crockery, chamber pots and whatnots, all corralled by brass bedheads, iron bed frames and anxious, tear stained women folk.
Someof us proceeded with caution along Cliff View, while others continued on into Frederick Street and Edlington Street led by the mounted officers. The miners had somehow begged and borrowed handcarts, many willingly donated by local businesses, and were loading them with fragile dignity. They had been on strike for six long months and had existed throughout on meagre strike pay. The powerful pit owners however, had convinced the High Court in London that the miners were in breach of their contracts and the Court ordered that strike pay be stopped with immediate effect. They now had nothing.
Mercifully, any resistance to the eviction never materialised and to our huge relief our presence was generally accepted with good grace. We were all working men, some of whom were related and many of whom had known each other for years. We were doing what society dictated had to be done, a society controlled by the rich and powerful going to any lengths to protect their own interests. I spent the day moving from house to house with borrowed ladders, helping to remove wardrobes through upstairs windows. It was a pitiful task and at times, I struggled to hold back the tears.
By four o'clock, much of the Cliff View had emptied and Tommy and I were finally able to help load his sister's possessions onto a cart. Superintendent Blake saw what we were doing, but walked straight past us without saying a word. Laden like pack mules, we managed the short journey to the village smallpox isolation unit where they were to spend the next few nights. Others would be housed in the school or the chapel and those unable to arrange anything, would find temporary accommodation in the sheds and outhouses of friends in nearby villages. The majority however, were destined for tents hastily erected in nearby fields and the charity of the church and Salvation Army. By six o'clock that evening, the Denaby and Cadeby Colliery Company had successfully expelled nearly two thousand defenceless souls into an unsparing January winter.
We marched back to Conisbrough like defeated infantry, shell shocked and bereft. How, in the year nineteen hundred and three, could the greatest empire the world had ever seen, treat its own people in this way. The carriage hummed with suppressed anger on the short return journey to Doncaster and when we arrived we were ordered into parade formation on the platform. The Chief Constable appeared and made a short speech thanking us for the excellent days work. He told us how we were a credit to society and we should be proud of ourselves. A hundred and twenty police officers stared straight back at him in traumatised silence.