Catharsis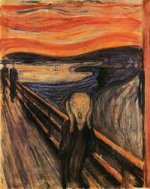 Mon, 26 Feb 2018
Although Winter had loosened its grip, it still had a few icy fingers wrapped
around this March afternoon. A chilled darkness slowly began to
suffocate the day, like a serpent's deadly embrace. She lifted her
shawl from the leather couch and covered her vulnerable shoulders
against the intrusion. It was nearly time.
She did the rounds of the house, checking and double checking the doors
and windows, never convinced that they would do their work, never
happy with their constant frailty. How could he gain entry so easily
when such precautions were in place? How could such fear breach her
defences so silently and penetrate her mind; burrowing through her
consciousness into the depths of her inner being? She was defenceless
against the unimaginable guile that this man possessed. Her only hope
was to take refuge, close her eyes and wait until the ordeal was
over.
She put two large logs onto the open fire and watched the sparks as they
were sucked upwards into the unknown. He was out there somewhere,
waiting. She could sense the coldness, the total lack of any
compassion and above all; the relentlessness.
Her acute hearing detected a faint rattle; a door somewhere, or perhaps a
shutter. It was always the same, it always began with indeterminate
sounds, sounds too clever to identify themselves, sounds he
deliberately designed to scratch at her flimsy mantle of defiance.
She dropped to the floor and crawled under the table like a terrified
blitz victim, fully aware that her feeble attempts at shelter were
futile.
She closed her eyes as she always did, but could still hear his approach.
The door handle rattled and the lock was tested against the frame,
every audible sound piercing her mind like a shard. The door opened
and swung back against the wall and footsteps echoed along the
hallway. He was here again, tall and gaunt; she could sense his evil
presence drifting into every corner of her sanctuary. She shuddered
and pressed her hands ever tighter against her ears, trying
frantically to force her mind into a safer place, a place he couldn't
reach, somewhere he could never find her.
She saw the promenade and heard the waves and all the familiar sounds of
happiness that had bathed her life before he arrived. She heard her
mother's gentle voice and felt the warmth of her hand as they
descended onto the beach to feel the soft sand caressing their feet.
The waves licked at their toes and tickled their ankles and the soft
sea bed embraced them like velvet slippers. She held on to this image
with all her might, screwing up her eyes ever tighter against yet
another sinister intrusion, another violation.
And then for the first time, she heard a voice. Not his voice, but a
voice with a much softer tone, more measured, more reassuring and
gentle. At first it wasn't possible to make out individual words, but
the graceful cadences and soft undulations gradually began to breach
her outer defences.
Very gradually, recognisable words drifted over the ramparts and she
welcomed them as friends. She opened her arms and allowed them
unfettered access into this new and unrecognisable realm. The terror
was dissipating, melting away into the distance; she was no longer
hiding under her table; she was no longer under siege in her flimsy
fortress. She was somewhere entirely new; not on the beach with her
mother and certainly not with him.
The comforting chocolate covered voice drifted into her consciousness and
called her name several times. She heard the voice counting one, and
then two, and then three....and then, as instructed, she slowly
opened her eyes.
The walls were suddenly familiar and unconfined. Sunlight streamed in
through the window and warmed the leather couch on which she found
herself resting so comfortably. She felt incredibly light headed and
for the first time ever, free from the terrors that had haunted her
since childhood. She sat up and looked around at the diplomas and the
book cases and the familiar mahogany desk. The gentle voice smiled at
her and she smiled back. Words had become superfluous now that the
demons had been banished. They both knew instinctively that this
would be the final session.