The Day Room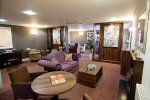 Tue, 16 Feb 2021
Walter sat in his usual seat in the day room, his eyes closed whilst quietly fermenting. It was just after lunch, he'd had a large helping of his favourite sausage and bean casserole and enzymes were at work!
Ted approached shakily and slumped into the opposite chair, cursing the pain as he propped his stick against the arm.
'My bloody knee's giving me some real grief,' he gasped. 'Nine months
I've been waiting for the operation. Nine bloody months.'
Walter opened his eyes and grinned at his mate. 'Early days yet Ted, this Covid thing's put the whole country on pause. You'll just have to
suffer like the rest of us. Speaking of suffering...'
Walter paused, briefly scanned the empty room and then suddenly adopted a sort of glazed expression. He raised a buttock from its cushion and quietly introduced several cubic meters of noxious gas into their conversation. 'Sorry about that Ted, it's the beans. Happens every
time.'
'You should try the vegetarian option for a change Walter; give us all a
chance to breath properly.'
'None of that health food nonsense for me Ted. At my age I need all the preservatives I can get.'
The door opened as young Ingrid entered with the tea trolley, rattling
across the large room towards them with innocent enthusiasm. She
stopped abruptly in her tracks, her delicate disposition sensing
danger. Her nose twitched with suspicion and her gentle countenance
instantly transformed into a look of horror. She turned on the spot
and fled.
'Now look what you've done, we'll have to serve our own tea,' snapped Ted as he snatched his stick, hauled himself out of the chair and headed for the window. 'Happens every bloody time.'
Ted threw open the casement and cautiously returned to his seat.
'No stomach for anything these youngsters,' Walter said ruefully. It's a
good job she wasn't with us in barracks at Aldershot. She'd have
needed medical intervention on Spam-fritter Friday.'
'They certainly don't have the resilience we used to have,' said Ted as he poured two teas from the urn. 'God knows what we're bringing into the world nowadays. That grandson of mine's turned into a right little
spoilt brat. Thinks he's entitled to everything he wants, instantly.
Throws a paddy anywhere and gets away with it.'
'I remember him,' responded Walter. 'Not seen them here for quite some time. Don't they visit any more?'
'Not since I last stayed with them for a few days,' Ted replied. Things
didn't go too well.'
Ted replayed the visit in his mind, a broad smile instantly attracting
Walter's attention.
'Go on then; tell.'
'It was quite funny really. I was sitting there in the living room when
young Rory comes in and says, 'Grandad, what's it called when there's
one person on top of another in the bedroom? Well, I thought for a
moment and then I told him it was called sexual intercourse. He says
thanks, and goes back round to his mate's next door. Twenty minutes
later he comes back in and says,'Grandad, it's not called sexual
intercourse, it's called bunk-beds, and Kevin's mum says you're
disgusting. Well, I thought it was hilarious, but my daughter's not
so pleased. Says the neighbours won't talk to them now.'
Walter and Ted still had loud smiles on their faces when Karen, the
assistant manager came in with Ingrid, looking to retrieve the
trolley.
'I thought it would be you two,' she quipped. 'Is it safe to come in
now?'
'We were just talking about sexual intercourse,' grinned Ted, would you
like to join us?'
'You're incorrigible, you two. You're both old enough to know better. You should be setting an example for young Ingrid here, it's her first
week.'
'Just needs toughening up a bit, that's all, said Ted. 'We were just saying that youngsters need to be taught that life's not always a bed of
roses.'
'Well, judging by the terrible odour in this room Ted, I'd say someone's
made that painfully obvious'
Karen suppressed a smile, gave the duo her matronly look as she took
possession of the tea trolley, and escorted Ingrid from the room;
tightly closing the door behind her.
'No appreciation for the wisdom of the elderly, that's her problem,'
smiled Ted as he sipped his now lukewarm tea.
Walter nodded in agreement, whilst painfully raising a buttock and turning alarmingly glassy eyed.