On Hexthorpe Bridge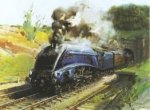 Fri, 06 Mar 2015
                                    Soot flecked and Tizered, we stood
waiting on Hexthorpe Bridge.
Scuffed shoes, scabbed knees
and ready.
                                    Word was out that the black snout
and garter blue was running late;
but none cared.
Stoked anticipation fired through
boys who knew that 4-6-2 and garter blue
would soon be steaming through.
Today was our audience with a queen;
a queen over Commonwealth, Dominion and Empire.
The shout went up and we hauled ourselves
onto the parapet to salute her;
to inhale her essence and worship her name.
Struck by Odin's hammer, the parapet
trembled as a hundred tons of 4468 thundered northwards
towards Valhalla, from whence she came;
leaving behind a taste of her very soul
Power forged by the gods lingered on the lips,
filled the nostrils and marinated the senses
of boys who would never forget.
Never forget that 4468, on that date, was
the queen of all she surveyed.